McLaren Bay Medical Foundation Head Speaks To Rotary
January 9, 2018
By: Stephen Kent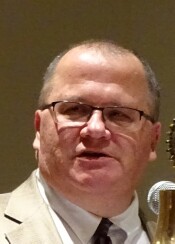 Rotarian Pete Shannon
, Director of the McLaren Bay Medical Foundation, spoke to Rotary about the status and activities of the Foundation, which is 40 years old.
McLaren Bay Medical started when four hospitals merged into one some 45 years ago. Many changes, expansions, and mergers happened over the years until the organization became a McLaren facility several years ago.
The Foundation is governed by a board of 27 which includes a number of Rotarians. Ed Keating is the current board president. The expenses of the Foundation are covered by McLaren, which means that all contributions are available to be granted to charitable causes.
With some $15 million in assets, funds are allocated to selected major projects each year, such as the Nickless Clinic. Another large share is granted to various hospital department needs and to community causes based on the advice of the Grants Committee, which meets quarterly.
The Medical "industry" is one with very high costs and a huge budget. But that money can only go so far. Every year there are many patient and department needs that can't be met. Departments follow a procedure to submit grant requests to the Foundation. Department heads then hospital management make an initial review and recommendation then the requests are sent to the Grants Committee. If approved the requests go to the Foundation board for final approval. Some $700,000 was granted in this way last year.
The foundation holds several large fundraising events including the upcoming "Dinner Around The World", the annual "Golf For Life" event, and a 5k Run/Walk. Funds also come from community drives, community giving, and planned giving, and bequests. An "employee drive" that raises money from employees themselves is one of the largest in the entire McLaren system.
---
CLUB NEWS and ANNOUNCEMENTS
Reminder: This year's
Rotary Rocks
concert scheduled for February 8 at the State Theatre. Tickets and program ads on sale now.
Rob Clark
will be home and plans to MC the event.

MEMORIES

Dig out your favorite Rotary memory photos and
let Brenda Scramlin use them for the weekly
Club slide show. It'll be fun for everyone!

At left: First Club President, Otto E. Sovereign

Next summer's
International Convention
will be in Toronto, an easy trip for many of us. Be sure you sign up with her to attend this life-changing Rotary experience.
Current and past
DISTRICT DISPATCH
newsletters are available on the District site shown in the LINKS section below.
---
---- DATES TO REMEMBER ----
January
Goal for wrapping up Dictionary and Thesaurus deliveries.
February 8, 2018 Rotary Rocks Concert
at the State Theatre.
May 4-5, 2018 - District Conference
Frankenmuth
New format and breakout sessions.
1 and a half days rather than two full days.
---
Upcoming Programs
(See the official schedule at RotaryBayCity.org )
January 16, 2018: The Boys and Girls Club of the Great Lakes Bay Region
Dorothy Dean, Director of Resource Development, will present a brief overview of upcoming projects and what the Club is focusing on for 2018.
January 23, 2018:
Rotarian Cherry Burzynski will talk about her recent
Africa Adventure
.
---
Current and past
DISTRICT DISPATCH
newsletters are available on the District site shown in the LINKS section below.


Rotary Bay City on Facebook!
Click on the Blue Facebook to visit us there.

Remember! Check attendance sheets at the front desk.
---
LINKS