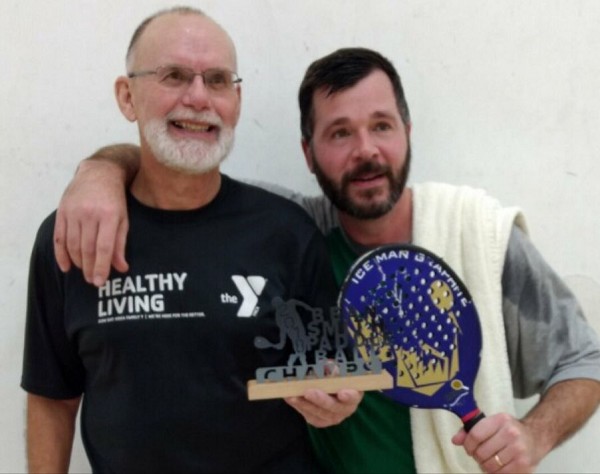 Bay City's Randy Wackerle (L) and Chad Krager won their 8th straight Bean-Smith Paddleball Tournament at the Bay Area Family Y. It was the twelth championship for Wackerle who won his first title back in 1974.
---
Wackerle-Krager Win 8th Straight Bean-Smilth Paddleball Tourney in Bay City
February 5, 2018
By: O. J. Cunningham
EIGHT is GREAT!!
No sir, we are not talking March Madness yet. We are talking PADDLEBALL MADNESS at The Dow Bay Area Family Y this weekend.
The 45th Annual Bean-Smith Paddleball Doubles tournament champions (Wackerle-Krager) have repeated 8 times! The 2018 tourney fielded 17 teams from around Michigan, including Bay City, Saginaw, Ann Arbor, Standish, Detroit, Kalamazoo and Benton Harbor.
.... Photos & Tournament Stats provided the Bay Area Family Y and Chad Krager)


In the Open division, the defending duo of Randy Wackerle (aka Wack-Attack) & Chad Krager of Bay City extended their winning streak to 8.
Yes! That's Eight!
Wackerle & Krager defeated the hard-hitting, swash-buckling, and quick-footed team of Adam Koehler & Greg Keenan from Bay City, in a hard-fought battle that went to a tie-breaking 3rd game 21-20, 8-21, 21-10.
Game-1 was an epic battle won by the eventual champs that harbored quite a few lead changes and exciting rallies. Game-2 was dominated by the continued high-percentage shooting from Koehler & Keenan, as they suffocated every little wiggle of life from the defending champs.
Unfortunately for Koehler & Keenan, it may have been the case of too much too fast which allowed Wackerle & Krager to catch their breath. In Game-3, Wackerle & Krager's second wind proved to be the difference maker when it counted in the rubber-match game. They took control of the tie-breaker from the onset and never relinquished the lead to capture their 8th consecutive crown.
Bay City's Randy Wackerle won the first Tournament back in 1974 with Greg Novak. Wackerle first teamed with Krager in 2009. In 2011, Wackerle and Krager teamed up again. THIS (2018) YEAR MARKS A "EIGHT PEAT" -- (8 YEARS IN A ROW, 2011 THRU 2018) FOR THE RETIRED JOHN GLENN TEACHER (Wackerle) AND FORMER STUDENT Krager).
The first three years the tournament was called the Bay City Holiday Inn Paddleball Tournament and changed its name when Herb Bean passed away. The following year Fred Smith passed and the Bean/Smith was born.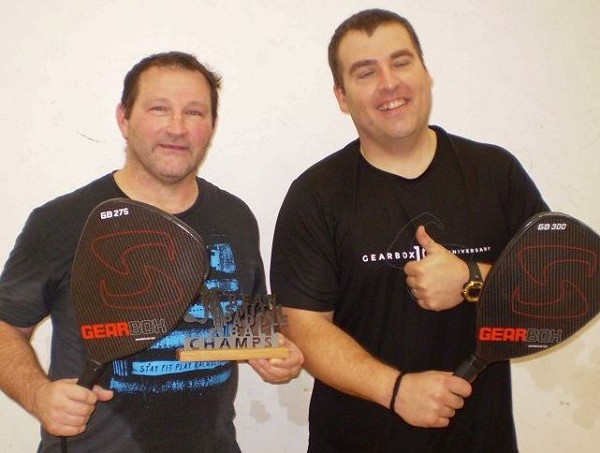 DON McINTYRE-SCOTT RETTELLE
"B" Division
© MyBayCity.com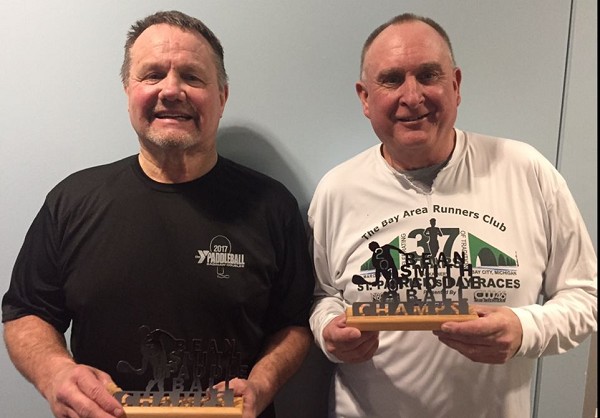 PAT O'SHEA/ BILL JAMROG
"C" Division - (BAY CITY)
© MyBayCity.com
Wackerle, who was inducted into the Bay County Sports Hall of Fame back in 2001, has now won twelve (12) Bean/Smith Titles -- 1974, 1982, 2003, 2005, 2011, 2012, 2013, 2014, 2015, 2016, 2017 AND 2018. The 41st Annual Bean/Smith had four (3) divisions.
The champs were the elder by almost 30 years-combined, so making a charge at the right time was instrumental to the success, commented Wackerle.
In the Class B Bracket, Don McIntyre-Scott Rettelle (21-13, 21-12) defeated Erik Boks-Thomas Bodary.
In Class C, Bill Jamrog-Pat O'Shea defeated Kitson-Snow.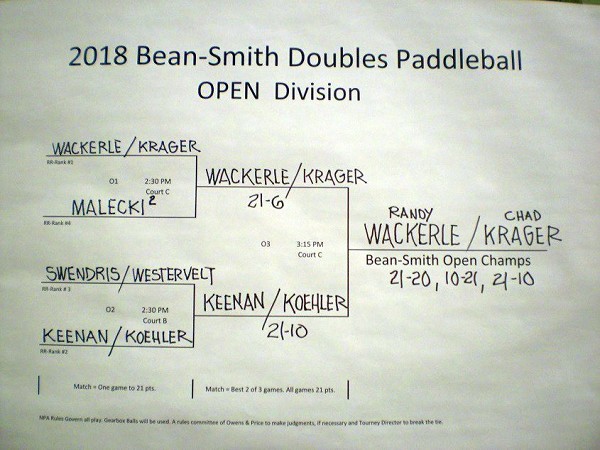 OPEN BRACKET RESULTS
© MyBayCity.com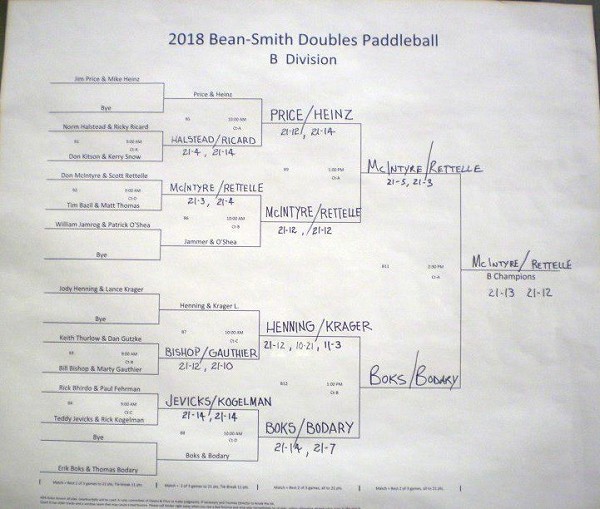 CLASS "B" BRACKET RESULTS
© MyBayCity.com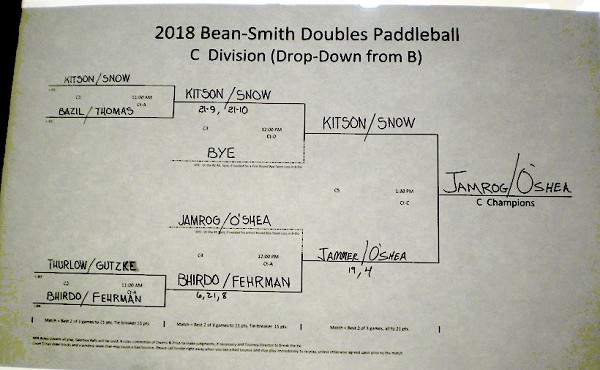 CLASS "C" BRACKET RESULTS
© MyBayCity.com