Club Reviews Plans, Progress and Activities
April 29, 2006
By: Stephen Kent
THIS WEEK'S PROGRAM:
Gloria Woods on the affirmative action ballot question.
LAST WEEK:
"Club Assembly" - Long range planning
UPCOMING PROGRAMS:
May 2, Gloria Woods on the affirmative action ballot question;
May 9, Tall Ship Challenge, Shirley Roberts;
May 16, David Eisler, president of Ferris State University;
May 23, Mike Avery, Outdoor Magazine host;
May 30, Sue Murphy, Bay City schools language program,
June 20, Gena Gates, membership meeting;
June 30, Rotary Foundation.



---
--- Advertisements ---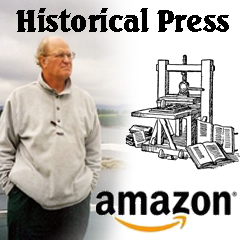 ---
---
CLUB NEWS
PROPOSED NEW MEMBER: Barb Dinauer, manager, First American Title Co., Bay City.

ROTARY YOUTH EXCHANGE OPPORTUNITIES: See Rob Monroe if you are interested in sponsoring a girl from Germany or a boy from Italy who will be attending Bangor Township Schools. You need not live in the Bangor district.

GOLF OUTING: Signup has started for the annual Rotary Open Golf Outing June 5, according to Brian Kay, chairman of the event. There will be a 12:30 p.m. shotgun start at the Bay City Country Club. cost is $115 per golfer. Sponsorships are available: $100 per hole, $200 practice green or driving range, $560 patron. Major sponsor is Bay Regional Medical Center and sponsor is Independent Bank.

---
Honorary Members Introduced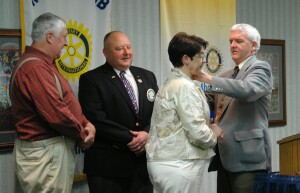 Rotary's rules recognize that there are people in a community who exemplify the principles of rotary but are not members of a club. For those deserving people, the rules allow a club to honor them with an honorary membership. This year the Bay City club has named five honorary members in recognition of their contributions of time and financial backing of our Club's activities. On Tuesday the club recognized William and Elaine Fournier and presented them with Honorary Member pins.


---
LAST WEEK'S PROGRAM - Club Assembly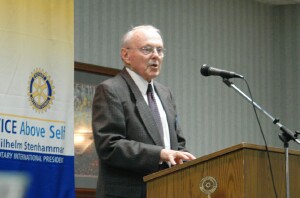 All Rotary Clubs are expected to hold club assemblies on a regular basis to discuss the activities and plans of the club. The Bay City club has used these meetings to focus on long range plans and major projects. Last Tuesday Don Massnick led the assembly in a review of the long range plan.

The Long Range planning committee put together a number of question and discussion topics. Committee memebers were seated at each table with alist of five or six topics for that table to discuss and rank. Massnick circulated among the tables to provide further guidance and assess how the discussions were going.

The general reaction to the announcement of a club assembly is generally less than enthusastic. In fact, the discussions at the tables quickly become lively and interesting. More than one group remained after the close of the meeting to continue their discussions.

The results of the assembly will be reviewed by the committee and reported to the club at a future meeting.



---
---
--- Advertisements ---

---
---
RotaryBayCity.org Rotary Club of Bay City Web Site


eClub-One: Members with internet connections are encouragedto visit eClub-One monthly for a makeup. To get makeup credit you need to fill out the makeup form on that site. Print the acknowledgement for you receive and turn it in to receive credit. Be sure to enter our club's district number (6310) on that form.
Click this link to open eClubOne in a new window: www.rotaryeclubone.org.

The Bay City Rotary Club meets at Noon each Tuesday at the Lumber Barons resturant on the West Side.

Rotary Club of Bay City Web Site

District 6310 meeting schedule



0202 nd 03-20-2019