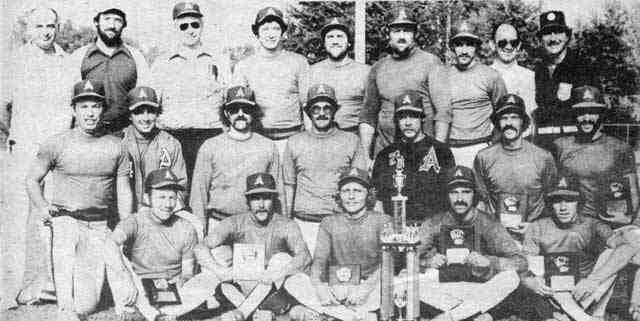 Arrow TV Got Great Pitch, Hitting & Defense in 1978 State "A" Tourney
---
Arrow TV Softball & Bell Bar Bowlers Hit It Big In 1978
State Fastpitch Championships and City High Kegling Scores Were Big News
December 20, 2002
By: O. J. Cunningham
Bay City Arrow TV set Michigan Class Men's fastpitch on its collective ear in August 1978 when it breezed to the Michigan Class A Title with four straight wins. Arrow TV topped Knight Cap Lounge of Midland 5-0 in the championship game.
Al Gloden(3 wins) and Leo Urban (championship game winning pitcher) shared the mound duties for Manager Bob Townsend and Sponsors Bob and Bill Turk.
Bob Stewart hit everything in sight to lead the Arrow TV offense. Stewart had 9 hits in 14 at bats during the tournament for a fantastic .615 batting mark to lead all hitters during the weekend competition.
Pictured above are: (Front Row, left to right) Tom Newcomb, Roger Zacharko, Tom Rasmer, Mike Talaga and Bob Stuedeman. (Middle Row) Manager Bob Townsend, Leo Urban, Jerry Goodman, Ken Ducker, Denny Lynch, Bob Stewart and Gene Woodward. (Back Row)Bay County Parks & Rec Director Don Felske, Tournament Director Ken Dorion, Sponsor Bob Turk, Al Tacey, Mike Deming, Al Gloden, Gary Tomlinson, Sponsor Bill Turk and Michigan ASA Representative and Umpire Gene Hornyak.

'78 Was Big Year For City Bowlers - Bell Bar's 3413 Lit Up Alert on March 1 -
(Left to Right, above) Jim Neal, Dick Green, Jay Hahn, Pat Phillips and Joe Kata posted the "Best Ever" Team Score on Wednesday night, March 1, 1978 at Mel Beyette's Alert Lanes. (Remember when it was on Center Avenue?) Games of 1067-1181-1165 set the standard for City Team scoring.
Neal led the way with a 765 series while Green tallied 713, Hahn 694, Philips 636 and Kata 605. Neal's 765 was the top 3-game set of the 1977-78 Bay City bowling season.
The thing that this former
Sports Page
Editor remembers is that we published on Thursday. The big score happened on Wednesday night. I was in Alert Lanes that night and saw it all unfold. Great excitement. In themorning,
Sports Page
tore down the front page just before press time (as in
"Stop the Presses"
) and re-made page one to reflect bowling history.
What a Night!!
NOTE: This is one of a continuing seriesof flashback article to be taken from the archives of the Bay County Sports Page & Bay City Enterprise newspapers published from 1976 through 1984 by O.J. Advertising, Inc. This Publisher hopes you enjoy the time travel as much as he does! If Sports Pageand Enterprise are the grandparents of our newest arrival - mybaycity.com - then they are (as expected) very proud granparents, indeed.