Womens Center and Felix the Friendly Fox Present to Rotary
June 5, 2018
By: Stephen Kent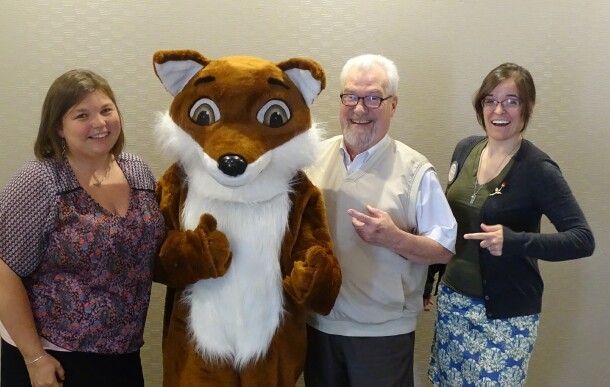 Jessica Gregory, Felix the Friendly Fox, Eric Jylha, Lindsay Richardson
(Having once appeared in a photo with the Bear mascot, it was fitting for Eric to be photographed with Felix)
Jessica Gregory
of the Bay Area's Women's Center presented the program on Tuesday. She thanked Rotary for the recent Community Grant that helps fund their programs than described some of those programs.
The Women's Center was founded in 1975. In 1981 they moved into their first actual shelter, the Eden House, where they stayed for seven years. In 1988 they moved to the old convent on State Street near Oak Ridge Cemetery. The year 2000 saw the center complete construction of a large, modern facility and move to 3411 E. Midland in Bay City, behind the former YMCA.
The mission of the Women's Center is to eliminate domestic violence and sexual assault. They have numerous programs that both address crises situations as well as provide counseling, education, advocacy, support, and shelter.
The statistics were impressive. In 2017 the center served over 37,869 meals. Services were provided to 585 women, 146 children and 11 men. Five different support groups meet at the Center. Sexual Assault Nurse Examiners conducted 25 adult exams and 26 pediatric exams of sexual violence survivors. Education sessions were presented to almost 4.700 youth and adults. The Center also helps clients find permanent and safe housing, navigate the legal system and understand their rights.
Education programs for young children is an important component of the services. For a number of years, the mascot of the Center was a huge teddy bear (costume). Over the years that costume just wore out. With the help of the Rotary Grant, the bear was recently replaced by
Felix the Friendly Fox
, who was on hand to meet the Rotarians.
In replacing a worn out costume, Felix brings many advantages. Costumes have evolved over the years to replace the "ovens" endured by those who wore the old costumes. The new ones have pockets for frozen cooling packs and even have a small electric fan in the headgear. Felix is on the move and making appearances constantly. The cooling fixtures are greatly appreciated!
For more information visit
bawc-mi.org
---
CLUB NEWS and ANNOUNCEMENTS
OFF SITE MEETING - June 12th, 2017

Meet at the Delta Planetarium
Board meets at 11:00 prior to regular meeting.
The board meets this week
June 12 at 11:00 before the regular meeting.
Everyone is welcomed.
Meet at the Planetarium
Agenda, minutes, treasurers reports and other information
is in the member's area of the club web site.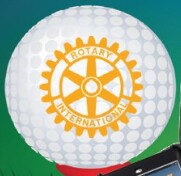 Tim Holsworth reminded members of the upcoming Golf Outing to be held June 25, 2018, , at Maple Leaf Golf Course again this year.

This year's plan is for each PLAYER to select a non-profit organization that has a team playing that day. The names will go in a pot and, at the end of the outing, one name will be drawn from the pot. That organization will receive $1,000 to use as they see fit.

Cindy Chadwick asked all members to be sure they have their packets of 20 raffle tickets to sell (or buy) for the event. Tickets are $5 each or 5 for $20. Prizes are sponsored by Wildfire Credit Union. 1st price is a 9.7" iPad. Second prize is $100 cash.

Full details and a downloadable copy of the brochure is on the club web site at
rotarybaycity.org
.
Harvey
announced that rather than handing out seedlings to students, the club will celebrate RI's tree planting initiative by donating a professionally planted Red Maple to the Kantzler Memorial Arboretum. This is a true Red Maple which means it has green leaves that turn brilliant red in the in the fall. Also happens to be a native just in case the point comes up. Not a tree that has purple/wine red leaves all year. Plans are for planting on June 18, 2018, at 5:30 P. M. We hope to see many Rotarians in attendance.
Jeff Yantz
and
Mike Bacigalupo
(morning club) were on hand to screen a short, professionally made, video about the
Mitten State Music Revival
held a few weeks ago at the Historic Masonic Temple. The event was more successful than anticipated and each club received a check for $1,000. Mike said that plans are to have similar events seasonally.
Next summer's
International Convention
will be in Toronto, an easy trip for many of us. Be sure you sign up with her to attend this life-changing Rotary experience. The fee for that event will go up by $80 on the first of April. If you plan to go the time to make your reservation is now.
The July to December, 2018 dues cycle is under way.

Dues notices were delivered by E-MAIL on June 6.

If you don't see an invoice by mid-June, please inform the Secretary!

You may mail your dues as usual, or deliver them to the Secretary at a meeting.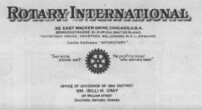 click picture for details
MEMORIES

Dig out your favorite Rotary memory photos and
let Brenda Scramlin use them for the weekly
Club slide show. It'll be fun for everyone!



---
---- DATES TO REMEMBER ----
June 12, 2018 Board Meeting
- 11:00, prior to the regular meeting. Everyone welcome.
Off Site meeting - Delta Planetarium.

June 18, 2018 - 5:30 P. M.

Club Tree Planting

at Kantzler Memorial Arboretum

There is a change in tree type, we will be planting a Red Point Maple. This is a true Red Maple which means it has green leaves that turn brilliant red in the in the fall. Also happens to be a native just in case the point comes up. Not a tree that has purple/wine red leaves all year.

June 25, 2018 - Club Golf Outing

Maple Leaf Golf Course

June 23-27, 2018 Rotary International Convention

Toronto
---
Upcoming Programs
(See the official schedule at RotaryBayCity.org )
June 12, 2018: Saginaw Bay Nature Festival.
Mike Stoner will report on the Standish/Pinconning Club's fundraiser festival: how it went and what they did.
June 19, 2018: Mid-Michigan Health
Cheryl Yesney will provide an update on their new location and construction.
June 26, 2018: The Bay City Recycling Program
presented by Sarah Archer.
July 17, 2018: International University of Shanghai
presented by Dom Monastiere. 25 students from the International University in Shanghai will visit SVSU. They will tour the campus and have lunch with Rotary. The program will describe the partnership between the two universities.

Rotary
is an intimate affiliation of carefully selected business and professional people,
having as its objective the promotion of high ethical standards in private, commercial
and civic life, and dedicated to the ideal that the basis of all worthy endeavor is unselfish service.
---
Current and past
DISTRICT DISPATCH
newsletters are available on the District site shown in the LINKS section below.


Rotary Bay City on Facebook!
Click on the Blue Facebook to visit us there.

Remember! Check attendance sheets at the front desk.
---
LINKS