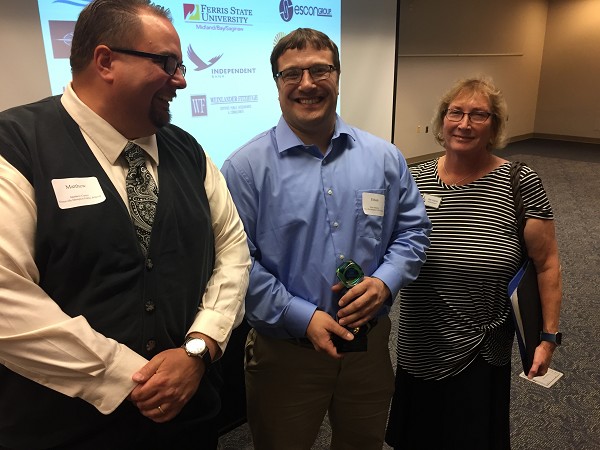 Helping robotics teacher Ethan Shannon, center, celebrate his 2018 Innovator of Education Award are Superintendents Matthew Cortez and Deb Kadish.
---
BIZ-ED AWARD: Chamber Lauds Teacher Ethan Shannon, Industrialist Alan Fonzi
September 20, 2018
By: Dave Rogers
What is the value of business-education partnerships? Just look to the robotics program at Garber High of the Essexville-Hampton School District.
The Bay Area Chamber of Commerce selected two awards winners honored at Tuesday's Business-Education Partnership Forum who personify the essence of the growing concept of schools and businesses working together to elevate student knowledge and workplace readiness.
Ethan Shannon, Essexville-Hampton Schools robotics teacher, and Glenn Alan Fonzi of Bay Composites, Inc., were honored at Tuesday's Business-Education Partnership Forum luncheon at Saginaw Valley State University.
Main speaker Roger Curtis, director of the Michigan Talent & Economic Development department, outlined the state programs that are focusing on developing talent for jobs in Michigan. He noted that 100 career and technical education classes across the state had to be canceled last year because qualified instructors couldn't be found.
He said a large share of applicants for key jobs in trades left the state because of slow response by human resource departments. He also said the state needs to transform the 100-year-old system of "assembly line schools." One main problem is that there are 729 students for every counselor, leading to non-engagement of students in education.
"It's time to help all students get engaged in competency-based learning," Mr. Curtis stated.
Mr. Curtis joined the administration of Gov. Rick Snyder in November 2016, implementing Project Rising Tide, that provided planning, zoning and economic development initiatives to struggling Michigan communities, and the governor's educational framework, the Marshall Plan for Talent.
The plan, signed into law in June, funnels $100 million this fall into Michigan's public high schools to train students for high-demand jobs over the next five years.
Mr. Curtis, 51, who has headed programs aimed a growing, attracting and training trades employees, revealed he is moving on to a new job at Consumers Energy, vice president of public affairs.
Mr. Shannon received the 2018 Innovator of Education Award and Glenn Alan Fonzi of Bay Composites received the 2018 Jerome L. Yantz Partner in Education citation.

Mr. Shannon, a Science-Robotics teacher at Garber High, "creates an environment where students are led on a discovery pathway for real-life connections which transcends the usual effects of the traditional classroom," according to the Chamber citation.

He works closely with the Bay-Arenac Career Center and emphasizes specialty courses as students work in related fields of study, said Deb Kadish, superintendent.

The Garber Robotics team has earned second place in Michigan and has competed with groups from all over the globe, including Canada, Afghanistan and the Netherlands. Team members have been awarded $75,000 in scholarships in STEM activities.

Mr. Fonzi has volunteered as a mentor to the Garber High robotics team for the past four years, totaling more than 3,000 hours. He has donated thousands of dollars worth of tools, 3-D printers, and filament. His company acts as a corporate sponsor to the team and has given thousands of dollars more to support students in competitions. He teaches students to use equipment in the Garber robotics lab, including CNC, CAD, 3D modeling programs and traditional fabrication tools.

During Mr. Fonzi's term as a mentor, Garber students have won more than $23,000 in scholarships and 100 percent of the team's alumni have gone on to major in a STEM (Science, Technology, Engineering, Mathematics) in college.

Mr. Shannon has developed a Grades 2-12 robotics curriculum and has grown the program from 15 to nearly 100 students and seven paid mentors. The elementary and junior high program has allowed the district to serve another 65 students and six additional mentors. "Glenn Alan Fonzi is the kind of person we would like all of our parents, volunteers, teachers, and staff to emulate in his dealings with our students," commented Supt. Matthew Cortez.

Actual Page from the Program Book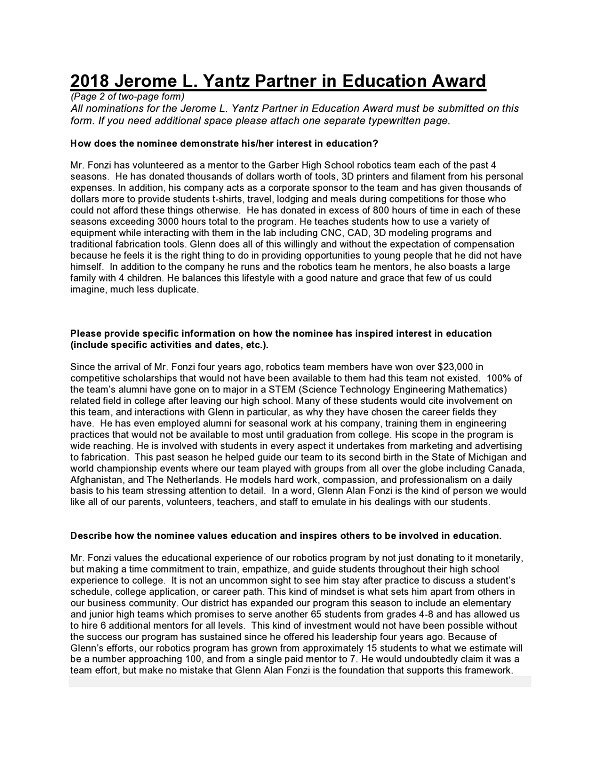 © MyBayCity.com

###