United Way Volunteer Programs Presented to Rotary
November 6, 2018
By: Stephen Kent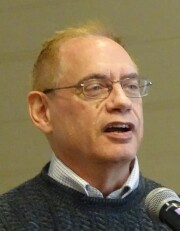 Archie Gittins
Archie Gittins
, Senior Volunteer Director of the
United Way of Bay County
talked to Rotary about the history of volunteer programs within the organization.
In an age of acronyms, RSVP takes on many meanings. When associated with the United Way most people know that it's a program for retired people but are not sure, exactly, that it stands for Retired Senior Volunteer Program. That does not mean, Archie explained, that volunteers must be "retired". Secondly, from UW's perspective, they are expected to be only 55 years old.
Other programs for volunteers include a
Community Garden
,
"Tuesday Tooltime"
and the
VITA
programs.
As with other names, "Tuesday Tooltime" does not mean the program is for that one day. It's for any day. And volunteers don't have to be experts. Their job is to provide simple repair and maintenance work for active military personnel. "If you can pick up a hammer by the correct end, you qualify," said Archie. Tooltime workers jobs are typically of short duration, don't require permits, and don't involve climbing. Volunteers are always sent out in pairs where at least one person knows something about what's being requested. The objective is for the second person to learn from the first.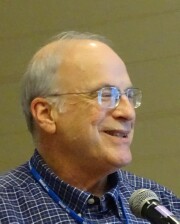 Ted Wolanin
Ted Wolanin
is an actual volunteer with the
VITA
(Volunteer Income Tax Assistance) program. This program was established in 1969 by the IRS to focus on the underserved areas where low to moderate income people need personal help with their taxes.
Working out of 11,000 sites, the VITA program helped with some 3.5 million tax returns last year. The people helped make less than $54,000 a year and typically have very simple returns. Many are not required to file at all, but might well receive a tax credit if they do.
The local VITA program has fifteen volunteers, some of whom are learning the job. The volunteers include both preparers and greeters. The greeters gather information, ensure that the client has all the information they need, and send the client to the right person for actual tax work.
Every return is looked at by two people. Two sets of eyes help ensure that nothing has been missed. In answer to a question, Ted said that as a general rule, volunteer tax assistance of this sort is immune from liability.
Like most organizations using volunteers, the United Way programs are always looking for volunteers. Both men appealed for anyone with an interest to volunteer!
For more information visit
unitedwaybaycounty.org
.
---
CLUB NEWS and ANNOUNCEMENTS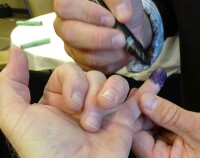 Purple Pinkie
In the day's "
Rotary Foundation Minute
",
Rob Clark
talked about the history of the Purple Pinkie. When Rotary carries out a vaccination campaign overseas, each child's pinkie is dyed purple. This both promotes the vaccination and ensures that kids are not vaccinated twice.
Vaccinations only cost 60¢. Rotary Clubs worldwide run "Purple Pinkie" fundraising projects where people who make donations get their pinkies marked in purple. Rob set up the poster his son Owen did a couple of years ago at school. Rob asked each Rotarian to put 60¢ into the collection jar and get his pinkie marked in purple.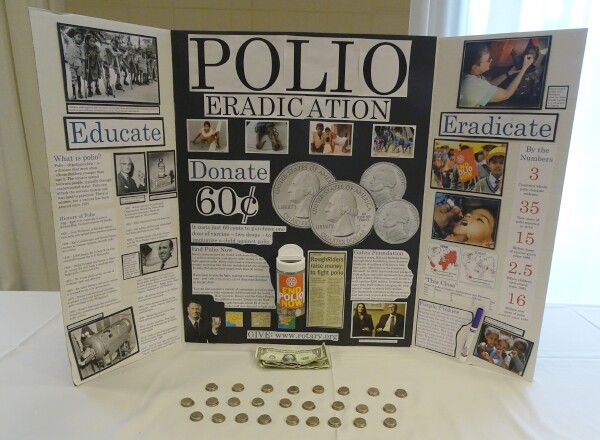 Owen Clark's School Poster
Even 60¢ makes a difference
---
---- DATES TO REMEMBER ----
November 13, 2018: Board Meeting
11:00, prior to the regular meeting.
Everyone welcome.
November has been designated as Bay City Rotary's
"Month of sharing"
. Programs for the month will emphasize the many things we have to be thankful for and will encourage ways we can share with our family, friends, and community.
Rotary meets at the Doubletree, as usual, on Nov. 13, 2018 and for the foreseeable future.
---
Upcoming Programs
(See the official schedule at RotaryBayCity.org )
November 13, 2018: Giving Thanks Month, Featuring the Literacy Council.
Rotary grants have supported the Literacy Council for their past season of summer tutoring. Come to hear Kathy Raynar tell how our club's support made an impact in our community.
November 20, 2018: Giving Thanks Month, Featuring, 5 Guys at 55.
Tara Welch and other Rotarians will honor 5 guys that have over 55 years of service in our club. Com to join us in the celebration!
November 27, 2018: Giving Thanks Month, Rescue Mission of Mid Michigan.
Former member
Dan Streeter
will talk about the Rescue Mission's capital project that includes a shelter in Bay County for homeless Teens.
December 18, 2018: Studio 23's 60th Anniversary
Tara Welch will give an update about Studio 23's 60th Anniversary project. The organization will be renovating their current space to increase space for students and educational activities. Learn about the exciting project and their plans for 2019!
December 25, 2018: Merry Christmas Rotarians! No Meeting today
January 1, 2019: Happy New Year Rotarians! No Meeting today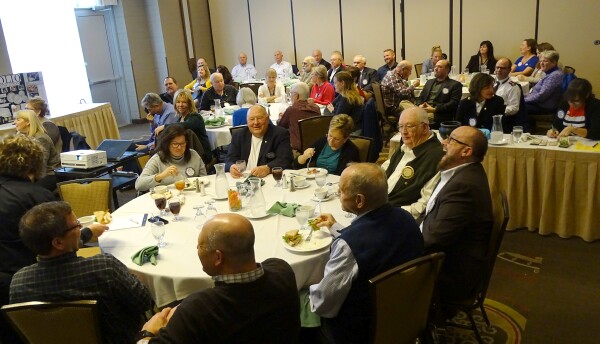 Rotary
is an intimate affiliation of carefully selected business and professional people,
having as its objective the promotion of high ethical standards in private, commercial
and civic life, and dedicated to the ideal that the basis of all worthy endeavor is unselfish service.
---
Current and past
DISTRICT DISPATCH
newsletters are available on the District site shown in the LINKS section below.


Rotary Bay City on Facebook!
Click on the Blue Facebook to visit us there.

Remember! Check attendance sheets at the front desk.
---
LINKS