Sue Murphy to Tell Rotarians About Preschool Chinese Language Program
Outoor Magazine's Mike Avery a Hit with Program on Wildlife
May 28, 2006
By: Dave Rogers
THIS WEEK'S PROGRAM:
Sue Murphy, Bay City Public Schools Chinese language immersion program for preschoolers.
NEW MEMBERS:
Barb Dinauer, Jim Flannery.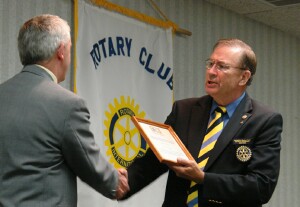 TWO HONORED:
Dist. Gov. Coe presented certificates to President Ralph Knop and Mike Stoner for their work with new clubs in Pinconning and Standish.
POLIO PLUS FUNDRAISING:
Bay City Rotarians have given an average of $54.04 as of March 31; last year's average was $71.21. "you're doing well, just keep it up," District Governor Dalton Coe told the club last week. "You continue to lead this area of the state. Your club is up for a lot of recognition."
---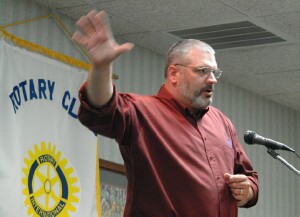 PROGRAM LAST WEEK: Mike Avery,
former TV-5 newsman, now producer-director of Outdoor Magazine,introduced by Eric Jylha.
The single most important resource for boating and fishing in this area is the Saginaw River, said Mike Avery, Outdoor Magazine television entrepreneur and former TV-5 newsman.
Mike's program is featured three times a week on the Outdoor Channel, reaching about 30 million viewers in the United States and Canada plus listeners to 13 radio stations.
"If you're on Lake Michigan and there is a west wind you can't get out on the water," said Avery. "Here you can always cruise the river."
Avery described the Saginaw River as a "tremendous opportunity for tourism," noting: "I' like to see more Detroit money stop here instead of going on to Charlevoix and other places up north. We need to get the word out about this tremendous resource."
He said there is no environmental problem with fish caught in the Saginaw or Tittabawassee rivers or Saginaw Bay. "They are only in there a few weeks," he noted.
Walleye enthusiasts are banking on natural reproduction to compensate for stocking that has been abandoned by the Michigan Department of Natural Resources, he said.
A major threat to the fishing resource is posed by Native American tribes, said Avery. "If they win unlimited fishing rights by treaty there will be nothing left."
Little is known of a federal lawsuit brought by the tribes since a judge in Grand Rapids has placed a gag order on information about the litigation.
Avery fears that if natives win the suit they will go to spawning grounds on the Kawkawlin River, for example, and set their nets. If that happens, "There will never be another fish come out of that river," he predicted.
Other threats to the fishery include Asian invaders like the gobi and Asian carp, said Avery.
He reviewed several other wildlife issues:
Salmon fishing in Lake Huron is in "serious trouble" because of a shortage of bait fish;
Walleye fishing has improved and fishing enthusiasts from other states like Minnesota, Wisconsin and North Dakota, are being attracted to Michigan;
Muskie: there are not a lot of these fish in the Saginaw River and bay;
Steelhead: Fishing for them is frustrating but they are " a magnificent fish;"
Cormorants: "Shoot all those flying rats;"
Bass: An overlooked resource in the bay;
Sturgeon: He has seen one in the Saginaw River and they are in Saginaw Bay, Lake Erie and the Detroit River; they spawn every ten years and live to be 100; a group called "Sturgeon for Tomorrow" is protecting them in Black and Mullet lakes;
Coyotes: "If your cat is missing, chances are a coyote got it; they are everywhere, along with foxes."
Wolverine in Michigan. Where'd it come from? "Nobody really knows but the DVD produced by the guy who has tracked in in the Thumb is really neat."