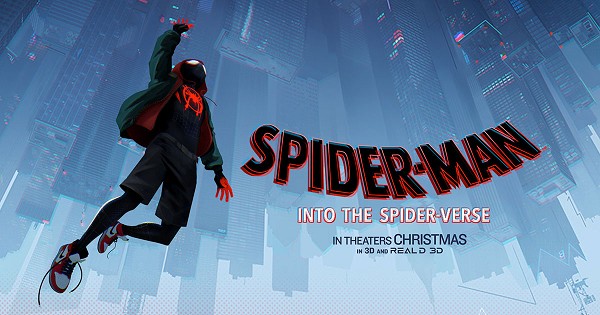 MOVIE REVIEW: Spider-Man: Into the Spider-Verse
December 30, 2018
By: Kathy Rupert-Mathews
We saw "Spider-Man: Into the Spider-Verse."
I was hesitant at first. After all, it was all animation. However, it was great! It was like watching a comic book, excuse me, a "graphic novel." Very different. I expected something like the animated "Aladdin" or "Toy Story." Not even close! It's a good strong PG movie so take your 4th grade-on kids.
The story revolves around a middle school boy, Miles voiced by Shameik Moore. He has typical ups and downs of finding himself in a new school. He skips out one evening and goes to his Uncle Aaron's, voiced by Mahershala Ali, who takes him to secret place off the subway so he can tag, graffiti, a wall.
Miles gets bitten by a radioactive spider and he becomes a spider-man. There is already a spider-man in his universe, Peter Parker. He finds they are not the only ones. There are multi-universes with Spider-Men/Women in all of them. They have to fight King Pin, voiced by Liev Schreiber, to set the universes straight.
Doc Ock is voiced by Kathryn Hahn. Hailee Seinfeld, Nicolas Cage, Jake Johnson, Kimiko Glen, Chris Pine and John Mulaney voice the other Spider-Characters. Lily Tomlin is Aunt May. Of course, Stan Lee makes an appearance as himself, in his last voice over.
The plot is strong. It has been nominated for many awards dealing with black characters and a strong woman. Stick around through the credits and you might enjoy the very last song and scene.
So go. Have fun. Eat popcorn.