Who is the Toughest
Man & Woman in Bay City?
Find Out at HOOTERS of Bay City!

June 18, 2006
By: Julie McCallum, Entertainment Editor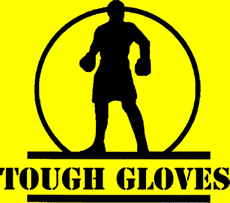 Bay City Hooters Parking Area will be the setting for the Toughgloves Fight Night
TOUGHGLOVES Fight Night will be held at Hooters of Bay City at the end of Midland Street on the River, in the parking area of the restaurant.
The Event is scheduled for Thursday Night June 29th, 2006 at 8pm.
Toughgloves is a USA Boxing Sanctioned Amateur Boxing Tournament promoted by The American Boxing and Athletic Association. (ABAA)
"Having the fights set up here in the parking lot of Hooters, is the perfect setting by the River in Bay City," said Art Dore, the owner of Hooters and the Original Promoter of Toughman.
"Come see the Hooter ring girls and the Hooter wait staff will be serving up wings and all your Hooter menu favorites. It's an event you won't want to miss. It's going to be alot of fun," added Dore.
Toughgloves feature boxing matches between local guys & gals, between the ages of 17 and 35. The Toughgloves Boxing Event will feature multiple weight classes, multiple divisions, A Grudge Match Division, and Women Too!
Participants are bracketed into three different skill levels, which include:
OPEN - 10 or more fights
NOVICE - 1-10 Fights
SUBNOVICE - Never fought before
Each bout will consist of three one-minute rounds with a 60 second rest period between rounds. Judges will use the clicker system, with points awarded for aggression, power and the number of punches landed, good defense, etc.
Fighters wear 12 ounce gloves, headgear, groin protection and a mouthpiece is also required. All fighters must undergo pre-fight and post-fight physicals. A doctor and EMT's will be present at ringside (at all times) during the event.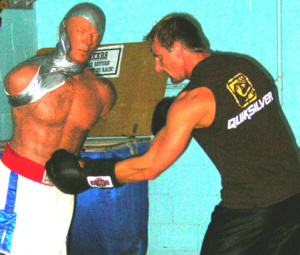 Participants will have a chance to show their fighting skills in front of family and friends in a boxing match like no other.
(Left)
Brian Pedler of Essexville trains for his first fight on June 29th. Pedler, from Bay County Water Department, says, "I had the opportunity to train with Josh & Bob Arsenault, so I've been working out and sparring the last couple months and decided to fight in the toughgloves and see what kind of raw talent is out there. I've always wanted to try it."
Cornerman and boxing coach, Chiko Galavez, says, "Toughgloves is not like toughman. Its a whole new breed of different boxers, some come from off the street. It's great entertainment for the crowd so we hope for good weather, but we will be out there rain or shine," Galavez added.
All General Admission Seats are $10.00 in Advance. ($5.00 more at the door, night of event.)
ADVANCED TICKETS are available at the following locations on the West Side of Bay City:
Hooters
- at the end of Midland Street on the River
NewBody Health & Fitness
- Corner of Henry & Vermont Streets
Dore Enterprises
- 900 Truman Parkway
(* All bouts subject to change.)
SEE Next week's MBC feature article on . . .
Toughman Professional Boxing Series Event taking place on Friday - June 30, 2006
and look for
video footage of local Bay City Pro Boxers in training.