Hilarious Harry Jarkey Still Goin' Strong, Celebrates 93rd Aug. 11 in Vegas
Famed Bay City, Detroit Comedian and Wenona Beach Icon, "Loves Bay City,"
July 8, 2006
By: Dave Rogers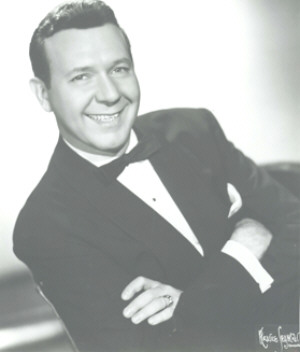 Comedian-musician Harry Jarkey in his entertainment hey day.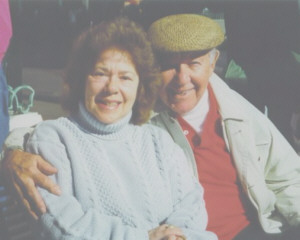 Harry Jarkey and longtime partner Joni Leduman at Christmas, 2005.
I wasn't sure if I should write about Harry Jarkey.
After all, how many people would remember the once famed comedian: he retired in 1975, although he did a few final gigs at the Elks Club, the Bay City Country Club and in the Friendship Shell here in the early 1980s.
Then I found out we shared a common birthday: Aug. 11. Harry will be celebrating his 93rd with his family in Las Vegas, and I'll be whooping it up for my 69th in Bay City. I thought: OK, maybe that's a sign I should do the story.
Then I talked to Harry's pal Bernie Surath, former Bay City scrap magnate, who sees the inimitable Jarkey frequently in their new home, Palm Desert, California.
"He's sharp as a tack and has all the answers," noted Surath. "He has a lot of his life wrapped up in Bay City, which he loves. I see him probably once a month for lunch and I live in Indio that is about 15 minutes from where Harry lives."
Then Pat Singer of Allan's Shoes called and put me on the phone with Linda Jarkey, Harry's eldest daughter, of Bloomfield Hills, who was born at Mercy Hospital in Bay City. His other daughter, Julie Jarkey-Kozlowski, now living in Shelby Township, MI, and also born here at Mercy. Both women are educators who took early retirement from the Utica Schools, Linda as a principal and Julie as Fine Arts Coordinator. Linda has her doctorate in Education and currently teaches Educational Administration at Saginaw Valley State University's center in Oakland County while Julie is an art teacher at a private school in Utica.
Then I talked to Harry himself. What a guy! Just as ebullient and interesting as ever, bringing back memories of his gala days at the Wenona Beach Casino.
"I'll never forget Bay City; it was my best home and best years," he said.
Jarkey and his family lived in the middle cabin of three cabins in the Wenona Beach complex, he recalled. He would work the Elmwood Casino in Detroit during the week, drive up to Bay City for Friday night, back to Detroit for a Saturday kid's show and back again to Bay City for a Saturday night show at Wenona Beach.
"The Wenona Beach had a roller coaster that was put together with Scotch tape," Jarkey quipped.
"I remember the Wenonah Hotel, the Mill End Store and working as a guest sports writer for the Bay City Times for a short while," Jarkey reminisced. It seems he was willing to try anything in a quest for fame.
Harry rattled off the names of many Bay City friends, including the Suraths, Pat and the late Al Singer, the late Bill and Audrey Walker, social icons of the 1950s through 1970s, Doctors Howard Knoblauch and Mike Dardas, Joe and Margie Carland, musician partner Dick and Mary Jessup, Wenona Beach owner Frank Cliff, the Rosengard family that owned a grocery, Violet Norgan of Essexville and business entrepreneur Jerry Jopke.
"I would sing 'Margie' and Margie Carland would joke that I must have dedicated it to her," he recalled.
Harry went to Palm Desert to be with his pal, Amos Jacobs of Detroit, better known as the comedian and actor Danny Thomas. His last appearances were on behalf of Danny's favorite charity, St. Jude Hospital for Children.
"We were friends for a long time and it was very sad to see a great guy like that go; he died in my arms," Harry recalled tearfully. Thomas, a native of Deerfield, Michigan, died in 1991 at age 77.
His daughter, Linda, noted that Harry, whose wife and mother of his daughters died in 1968, has had a long partnership with a former singer, Joni Leduman, who performed under the stage name Joni Whitman.
A Detroit entertainment website states: "Harry Jarkey's show business career began during the Depression when he emceed Walkathons, human endurance contests in which couples danced nonstop for hundreds of hours.
"Jarkey soon gained enough experience to make the transition to nightclubs where he became a top comic, touring throughout the Midwest and along the East Coast.
"In 1956 while performing at a Detroit nightspot he was tapped by WXYZ-TV for Our Friend Harry, a two-hour morning variety show. In 1959 Jarkey hosted Fun House, a Saturday morning game show for kids, also at WXYZ.
"For three decades Jarkey headlined at the Wenona Beach Casino in Bay City, MI. Jarkey retired from the business when he turned 75, but today he could still give any comic a good run for their money.
"In the 1960s Harry cut a Rock and Roll novelty record with the Dick Jessup Orchestra called My Girl Just Eats Popcorn.
To hear Harry Rock and Roll, just click on the
this link
.