City Manager Belleman Brings His "Utility Road Show" to Rotary on Tuesday
New President Gena Gates Receives Gavel from Ralph Knop, Sets Goals
July 16, 2006
By: Dave Rogers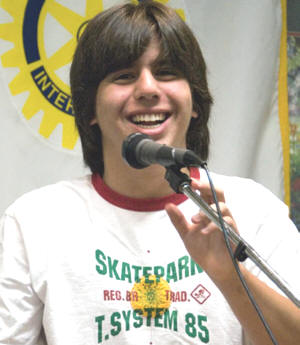 Tulio Villar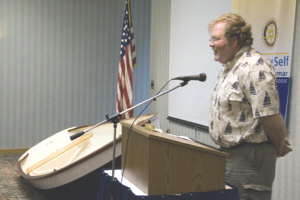 Speaker Brian Donaldson shows off 11 foot shellback dingy built by sailing association members that is being raffled for benefit of youth sailing classes.
PROGRAM THIS WEEK: City Manager Robert Belleman, focusing on city utility services.
GOODBYE: Tulio Villar, Central High exchange student from Brazil, now outbound.
HELLO: President Gena Gates, receiving the gavel from Ralph "Knobby" Knop.
ROSES: To Chuck Cusick for heading up the literacy development program, dictionaries for elementary students; Barb Fisher for exchange student work; Griff Acker for Vocational Days (150 students hosted), the International Night committee; Brian Kay for the golf outing; Anne Trahan and Rob Clark for the flower garden in Veterans Park.
LANDMARKS: Pledge totaling $10,000 to the Helen Nickless Volunteer Clinic; second kiosk in the Waterfall Park unveiled; $7,100 transferred to the Bay City Rotary Foundation; Kathy Czerwinski reported $2,845 donated to Polio Plus; $12,400 in total giving announced by Jerome Yantz.
GOALS: By new President Gena: 100 percent donors to the RI Foundation; orientation process headed by president-elect Rob Clark to help members become Rotarians not just members of a club.
CHANGES: Board meetings to be held at the regular meeting room at 11 a.m. prior to the first meeting each month. (No more early mornings.)
CLUB BACKING TO: Honduras drinking water project, $5,000, with RI match, fostered by former President Ralph.
UPCOMING: July 25: Doug Chapman, Dow Gardens; Aug. 1: District Governor and Paul Barbeau on Midland baseball; Aug. 8: Strategic planning with Chuck Brooks; Aug. 15: Open; Aug. 22: Brian McCarty and Dennis Ouillette, Mid-Michigan Medical Center, "Gamma Knife" brain surgery.
LAST WEEK'S PROGRAM: Brian Donaldson, Saginaw Bay Community Sailing Program.
The next set of sailing lessons on the Saginaw River will start just after the Tall Ships event is completed, said speaker Brian Donaldson of the Saginaw Bay Community Sailing Program.
This group builds boats in the winter and in the summer gets on the water to teach sailing to youngsters, he said. Ten eight-foot prams are used in the program, which also has three 16-foot day sailers available along with a speedy 12-foot RS Feva.
For a sailing class schedule see the group's website at http://www.sbcsa.org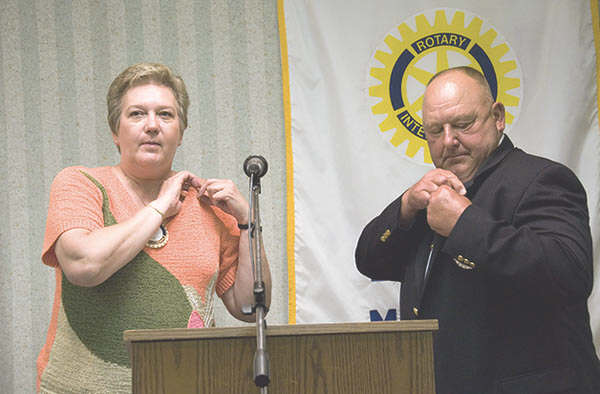 Incoming President Gena Gates (Left) and outgoing President Ralph Knop
(All Photos by Andy Rogers.)