Gonzales Case May Go To Trial Next Month in Texas
Supporters, Detractors Line Up; Jury May Make Tough Judgment Call
January 15, 2003
By: Dave Rogers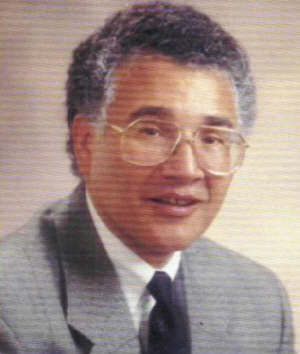 Dr. Joe E. Gonzales, native of Texas, grew up in Freeland and graduated from Saginaw Arthur Hill.
To the joy of his detractors and the dismay of his supporters, Dr. Joe E. Gonzales, former Bay City school superintendent apparently is going to face a jury trial soon on felony charges in San Angelo, Texas.
A Texas newspaper, the San Angelo Standard-Times, has reported that jury selection for the trial is set to begin Jan. 27 and the trial is likely to be held in February. A grand jury indicted Gonzales on eight counts of theft by a public servant.
Although some former employees and friends of the controversial school leader here cannot envision how the charges in Texas arose, except as a result of a highly volatile political conflict, Gonzales is accused of theft of about $15,000 from the San Angelo Independent School District (SAISD)in 1999 and 2000.
"He was the most meticulous man I ever saw in dealing with his expense account," says a former secretary. "He took great care never to make a mistake or to charge anything that was not justified to his expense account."
After leaving Bay City in 1997, Gonzales was named superintendent of the San Angelo district, which has about twice the enrollment of the Bay City district. He was hired by the larger McAllen district in 2001 even after the turmoil had broken out inSan Angelo.
Although Gonzales was credited by some Bay City board members with highly successful financial management while he was here, the San Angelo district suddenly and mysteriously fell into a $10 million deficit. The director of finance left his post and political turmoil erupted. As was the case in Bay City, Gonzales has strong supporters and rabid opponents. Gonzales, referring to the alleged 'missing millions,' recently noted that the San Angelo district now has a $20 million fund balance, noting that he had predicted that no funds would turn up missing: "Usually what I say comes true."
"Dr. G (as he was affectionately called by friends) was like that," one close ally here recalled. "People either loved him or hated him." Others have described him as "dynamic" and "charismatic."
Supporters have noted that the grand jury in Texas in its indictment of Gonzales severely chastized the San Angelo Board of Education for poor financial oversight. Gonzales has asserted his innocence because the Board approved his expense accounts. Texas state law allows expense accounts for school district related matters, but the charges assert that Gonzales spent his own money and then was reimbursed by the SAISD.
The expense accounts were questioned by state officials in Texas because some of the expenditures allegedly included political contributions to the Bush-Cheney campaign, Neil Diamond concert tickets, San Diego Chargers football tickets and San Angelo Colts baseball tickets. Gonzales maintains the expense account was allocated as part of his compensation approved by the Board and therefore it is his decision as to how it is spent.
He refuses to plead guilty to a lesser charge, his attorney Gerald Goldstein, of SanAntonio, stating: "You can't plead guilty if you're not guilty." While Goldstein says he has no doubt Gonzales is innocent, district attorney Stephen Smith is proceeding, stating: "We'll try the case on the evidence we have." The case has been delayed continually since last April, a fact which the Gonzales supporters claim indicates a weak case for the prosecution.
The turmoil from the West Central Texas community of San Angelo reached fever pitch, with Gonzales complaining that the problem was caused by "a small group of rich white people." That chaos has spilled over to McAllen, a fast-growing South Texas Rio Grande Valley "maquiladoros" (international trade center) town near the Mexican border where the population is even more heavily Hispanic.
McAllen trustees in October, 2002, voted 5-2 to suspend the superintendent with pay from his $165,000 a year job while district lawyers probe a variety of "charges' from employees. He is suing the McAllen district for violation of due process and equal protection and conspiracy to violate the Texas Open Meetings Act.
Observers here as well as in Texas are waiting to see how a jury will view the case if and when it goes to trial. "Is it just a misunderstanding, an attempt at a political lynching, or an actual case of wrongdoing?" one local observer asks. "I can't see how a charge of felony theft would stick. How could it be theft if it was just an administrative matter over which the board had jurisdiction?" Former Bay City board president Loretta "Candy" Wachowiak told the San Angelo newspaper in November that it was the San Angelo board's responsibility to monitor Gonzales' spending and that she doubted that he would be convicted on theft charges. Another former board member speculates: "However, if it is proved that he actually doubled-dipped (i.e., got reimbursed for an expenditure the district also paid for) he could be in trouble."
The fact that Gonzales still has the power to stir emotions in the Bay City area even after he has been gone five years is demonstrated by calls to local radio station talk shows complaining about lack of information broadcast about the Gonzales case and periodic postings, both pro and con, on web-based "chat rooms."
Another local political observer growls: "With corporate fraud and actual theft of millions like the Enron case sweeping the country, how the people in Texas can spend their time on this shows me that they have more political nonsense going on down there in the schools than we do here. The schools have become political quagmires and it's too bad because ultimately the kids suffer."
The observer noted that former Michigan Gov. John Engler has called for elimination of elected school boards in some urban areas because of the lack of management skills by board members and the damage done by politics to school districts' ability to provide stable educational services.