And The Winner Is. . .
Chris Dirla Wins 2003 GMC 4X4 Truck
January 16, 2003
By: MyBayCity Staff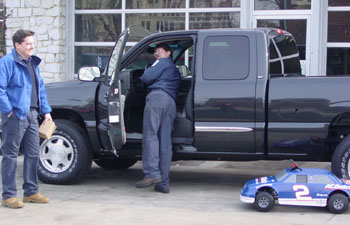 Chris Dirla holds the winning key to his new 2003 GMC 4X4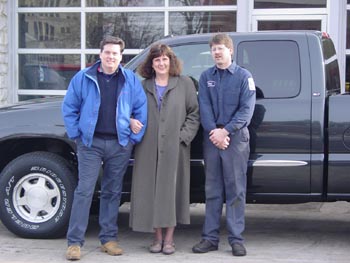 Mike and Diana Dalton with Truck Winner Chris Dirla
Thursday, January 16th is a day that Chris Dirla will not soon forget! He was lucky enough to draw the key that opened up the 2003 GMC Extended Cab 4 X 4 that his employer Mike Dalton, of Morgan's Auto Repair, had won himself the evening before.
On Wednesday night, Mike Dalton and long time employee, Joe Chislea, attended the A/C Delco sponsored Total Service Support Banquet held at the Horizon Center in Saginaw Township.
In attendance were the vendors of A/C Delco products who were given the chance to win the 2003 GMC by the amount of products sold throught the private companies.
Morgan's Auto Repair happened to be one of the lucky winners, being given the chance to draw a key that could open the door to the 2003 GMC that wasprovided by Star Sales.
Joe Chislea, a 38 year employee of Morgan's, stood in anticipation with his key in hand, waiting for his turn to try and open the truck.
As the others before him, Joe walked up to the truck, inserted the key and the door popped open!
So, Morgan's had won the 2003 GMC 4 X 4!!!
When Mike and Diana Dalton, owners of Morgan's Auto Repair, had received the invitiation to attend the banquet Mike had mentioned, "If I win this truck, I'm going to give it to one of my full-time employees!" Well, Mike hasn't gone back on his word!
Today, Thursday, January 16th, the next day after winning the truck, Mike did the same type of contest as took place the night before. Mike had five keys made up - only one of which would open up the truck.
At 11:30 am on Thursday, January 16th, Chris Dirla was speechless that his key was the one to open and start the truck. Chris stated, "The key looked like it had been worn so, I had a feeling I had the right key." The right key it was! Chris now has a 2003 GMC pick up truck due to the luck of the draw.