NAFTA, CAFTA AND TRASHTA: Dems Trumpet Canadian Trash Deal, GOP Stews
MyBayCity.com Review Finds Feds Ignored Human Blood Dumping Three Years Ago
August 31, 2006
By: Dave Rogers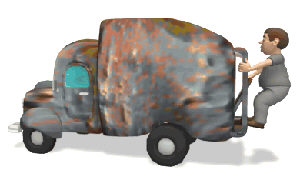 About 29 per cent of trash dumped in Michigan landfills in the last year came from outside sources, the Michigan Department of Environmental Quality (DEQ) reported.
Michigan residents for about 20 years have been baffled, frustrated and incensed about trash from Canada and other states dumped in landfills here.
Now, apparently, an agreement with Canadian officials brokered by U.S. Sen. Debbie Stabenow, and Sen. Carl Levin, both Democrats, will end dumping of household trash by 2010.
Sen. Stabenow's Republican opponent in the November election, Oakland County Sheriff Mike Bouchard, criticized the agreement and said it appeared to be a Democratic effort to beat House action slated next week.
And, to complicate matters, a spokesman for the U.S. Environmental Protection Agency (EPA) said the agency "does not have the authority to prevent international trash from entering the United States."
However, Laurel Broten, Ontario's environment minister, said he has written contracts with six Ontario municipalities which have agreed to find alternative waste management options.
Officials in Michigan and Ontario hailed the agreement as a benefit to cross-border relations.
About 29 per cent of trash dumped in Michigan landfills in the last year came from outside sources, the Michigan Department of Environmental Quality (DEQ) reported.
State officials said Michigan will run out of landfill space in 17 years at current rates of dumping. Canadian trash makes up about 19 percent of all dumping in state landfills, said DEQ officials.
Dumping wasn't illegal; it wasn't profiteering by rogue Michigan firms; it wasn't the fault of state authorities. Congress and Uncle Sam's highest court were to blame.
Canadian trash is considered "international commerce" by the U.S. Government.
The U.S. Supreme Court in 1992 ruled that states cannot stop trash shipments across borders unless Congress approves.
Congress and the Clinton and Bush administrations could have taken action to end the trash shipments based on environmental concerns. But, amazingly, officials took no action and allowed the caravan of trash trucks to continue into Michigan.
With 10 huge landfills in Wayne County alone, Michigan charges of just 21 cents a ton, compared with about $3 per ton in other states, were incentive to outside trash disposers.
Writer Lena Khzouz of the Port Huron News-Herald, reported Sunday that Michigan is taking trash from 14 other states as far as Florida and Maine and from Toronto since that city's landfill closed in 2002.
The most egregious example of federal misfeasance on this issue has come to light in a MyBayCity.com review of testimony before the House Committee on Energy and Commerce in July, 2003.
A Michigan State Police trooper, Ms. Linda Jordan, testified in a hearing by the Subcommittee on Environment and Hazardous Materials, that on Oct. 5, 2002, she investigated a semi-tractor from Canada dripping human blood. The incident occurred at the Detroit side of the Ambassador Bridge.
U.S. Customs, the Michigan Department of Health and the Federal Protection Service all failed or refused to take action and left the scene, she said.
A former U.S. Army paratrooper and U.S. Army Reserve Nurse, Ms. Jordan was outraged by the failure of federal action to stop such hazardous materials from entering this country.
"I am extremely disgusted and appalled at what I witnessed and the nonchalant attitude I received from State and Federal officials," she told the committee headed by U.S. Rep. Billy Tauzin, R-LA.
"I believe that with soldiers dying overseas to keep this country safe, it is imperative that all necessary actions be taken domestically to ensure that our borders are kept safe from any human, chemical or disease that may pose a threat to the citizens of this great nation," said Ms. Jordan.
Rep. Tauzin left Congress in 2004 after 12 terms and took a job heading the Pharmaceutical Research and Manufacturers Association, a drug industry trade group.
Governor Jennifer M. Granholm last week applauded U.S. Senators Debbie Stabenow and Carl Levin for successfully securing commitments from the Ontario Minister of Environment and Canadian municipal authorities to phase out municipal solid waste shipments to Michigan.
The agreement will take a few years and doesn't include industrial waste, but it's a start, says Gov. Granholm. Industrial waste makes up about half the Canadian trash, state officials said.
"This innovative agreement frees us from years of Washington gridlock and jump starts our ability to preserve open space, protect our environment, and stop road damage," said Granholm. "We will no longer have to be used as Canada's trash can."
State government news releases said Granholm has signed 14 pieces of state legislation to limit and stop Canadian waste from being dumped in Michigan, but the federal government's failure to enforce a 1992 bilateral waste agreement with Canada has allowed Canadian waste disposal in Michigan to increase by more than 300 percent over the last decade.
In June 2005, Granholm wrote to Congress in support of H.R. 2491, the International Solid Waste Importation and Management Act of 2005, bipartisan legislation to give states control over the acceptance and management of foreign trash. The House reportedly will vote next week on this legislation.
"I hope Congress passes this legislation. However, the Bush administration has failed to stand up to foreign trash peddlers, and we have no assurance the president would sign this bill into law. Our senators' plan breaks the gridlock, protects Michigan communities, and gets us real results."
Sen. Stabenow said the Senate has unanimously approved her legislation directing U.S. Customs and Border Patrol to charge fees of approximately $420 per trash truck to Canadian companies dumping waste in Michigan. The fees will pay for comprehensive security inspections at the border. The provision, co-sponsored by Sen. Levin, was included as part of the fiscal year 2007 Homeland Security appropriations bill.
Observers said that legislation may have persuaded Ontario officials to agree to the deal ending the dumping.
"This is a major victory for Michigan, and our message is loud and clear," Stabenow said. "Until the Administration uses its authority to stop the trash completely, it should be the Canadian trash haulers, not American taxpayers, footing the bill for these inspections."
"These shipments are more than a nuisance - they are a threat to our environment, our health and our security," said Levin. "Senator Stabenow's leadership has been instrumental in the push for a fee that would discourage these shipments and the problems they present. This is a significant step towards improving our security and protecting Michigan's landfills from being filled with Canadian trash."
Every day, more than 350 trash trucks cross the border from Canada on their way to Michigan landfills, according to the release. The Department of Homeland Security estimates it will take four U.S. Customs agents four hours to physically inspect a single trash truck. In recent years, inspections have turned up hazardous medical waste, radioactive materials, illegal drugs and counterfeit money, according to Democratic reports. Because the screening of Canadian trash trucks is so inadequate, the trucks are an attractive target for terrorists and other criminals.
In addition to improved screening of trash for security threats, the steep inspection fees in the Stabenow amendment are an important step toward making it unprofitable for Canada to dump its trash in Michigan.
Democratic officials said Stabenow successfully laid the groundwork to charge inspection fees with an amendment to the Senate Budget Resolution earlier this year. On March 30 the Committee on Homeland Security's Permanent Subcommittee on Investigations, on which Levin is the ranking Democrat, called on Congress to enact the fees proposed in the Stabenow amendment to pay for more rigorous inspection of international trash shipments. Democrats noted Sen. Levin has led the effort to implement the other recommendations of the Subcommittee report.###