Community Leaders Break Ground for three million dollar project.
---
Sage Library Renovation Breaks Ground
Community leaders and well wishers gather to celebrate start of project.
January 16, 2003
By: Stephen Kent
Community leaders and well wishing citizens gathered at noon on Thursday, January 16, 2003 to celebrate the ground breaking for the $3,085,709 renovation project for the Sage Branch Library.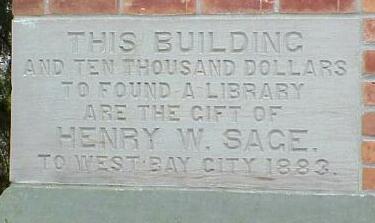 Built in 1883 at a cost of $60,000, the library, grounds and about 10,000 volumes were a gift to the citizens of West Bay City from lumberman Henry W. Sage. Today the Sage Branch Library is the oldest continuously operating library in Michigan.
Through its history, the library has provided much more to the community than just books. During World War II the Red Cross had offices in the building. When the high school just south of the building burned, classes were moved to the library. The third floor was once the office of the superintendent of schools. Today Sage is one of the favorite libraries in the community. The book collection is over 70,000 volumes and as many as 292,000 materials are borrowed annually by library patrons.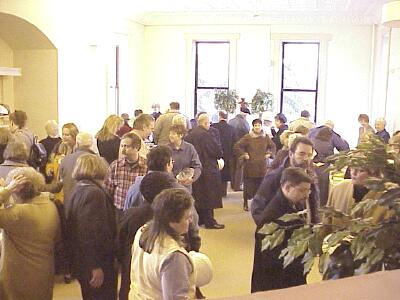 For a 120 year old building, the Sage Library is in remarkable condition. This was not always the case. By 1982 the building was in need of major repairs and was cited for numerous building code violations. That year the Bay County Library System Board of Trustees began a project to bring the building up to code and update many of the building's features. Among the many improvements, the exterior brickwork was cleaned and repaired, chimneys were reconstructed, 44 wood frame windows were replaced with efficient modern window systems. In 1990 the original, 106 year old, slate roof was replaced with federal grant money.
Listed on both the State and National Registers of Historic Sites, the beautilful Sage Library building is one of the architectural jewels of Bay City. It well deserves the care and attention being given to preserving a unique piece of history and heritage.
The current project will renovate 14,000 square feet of the building and add 3,840 sq. ft. of new construction. A new barrier-free entrance and elevator will be added. The attic will be converted from storage on an adult fiction and teen services area. The beautiful fireplace will be restored but the building will also get new heating and utility systems.
The Sage Library project is part of a major upgrade of the Bay County Library System. This summer work is scheduled to begin on a new main branch library in downtown Bay City. The Sage project is schedule for completion in the Spring of 2004.
For more information visit the
Bay County Library
web site.