Bay County Sports Hall of Fame Gearing Up For October 22nd Banquet
Full House Expected at DoubleTree Hotel on Sunday for HOF Induction Banquet
September 29, 2006
By: O. J. Cunningham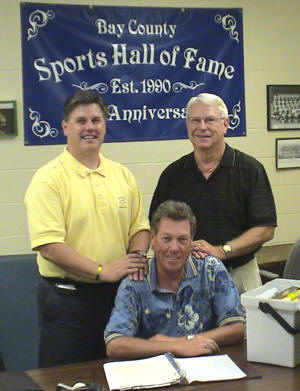 Hall of Fame Board Members Hard at Work - (L/R) Mike Gwizdala, Vice President Bob Darbee and George Stevenson are working hard at HOF Program Book advertising sales
The date is set.
The Inductees have been voted in.
But the hard work of preparing for the 16th Annual Hall of Fame Induction Banquet at DoubleTree Hotel on Sunday October 22nd is far from complete.
Over 400 are expected at the DoubleTree Hotel on the 4th Sunday in October. On that date, the Bay County Sports Hall of Fame will induct six new members and two teams in the Hall.
Maxine Barker, Jerry Berg, Susan Blumenstein (Smigiel), Jim Davidson, Randy Morse, Dick Mrozinski, Dewey Scheddel and William E. (Bill) Seidenstucker will be inducted on the 22nd.
In addition, the Bay City All Saints 1978 State Champion Baseball Team and the Auburn Fertilizer State Class A Fastpitch Champions for 1982 and 1983 will also be inducted into the Bay County Sports HOF.
$500 Scholarships will also be presented to the following Bay County student-athletes: Hope Kwapiszewski (All Saints High School); Sara Pawlaczyk (Central High School); Mike Gruszynski (Garber High School); Johnathan LaRocque (John Glenn High School); Nicholas Kleinhans (Pinconning High School) and Jeff Gwizdala (Western High School)
Rod Adams will be the Master of Ceremonies on Sunday afternoon an will also receive the 2006 Hall of Fame's President's Award for his many hours of service to and promotion of HOF activities.
Tickets for the event are $35 per person and can be purchased from Hall of Fame President O. J. Cunningham (989-892-8501), Vice President Bob Darbee (989-714 5830) or HOF Secretary Barney Glowicki (989-684-7718).
Festivities begin at DoubleTree with a cash bar and social hour (3:00pm - 4:30pm). Dinner is at 4:30pm and the installation of inductees will begin promptly at 6:00pm.
A silent auction and 50/50 drawing will also be held.
For more information, visit http://www.baycountysports.com