Former Toughman Champion wins "Contender" TV Show!!
Toughman Alumni Adds Another Celeb
September 28, 2006
By: Julie McCallum, Entertainment Editor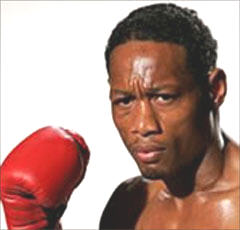 Grady "Bad Boy" Brewer
Bay City, MI - With Grady Brewer's win Tuesday night of the Contender Series Championship, the Original Toughman Contest® proudly adds another one of their champions to a prestigious list of celebrities that includes Mr. T, Tommy Morrison, Butterbean, and Christy Martin, among others.
Grady "Bad Boy" Brewer won the Original Toughman Contest® in Lawton , Oklahoma in the summer of 1999 and then began his professional boxing career in October that same year.
Brewer was 28 years old when he fought in the '99 Toughman Contest and has spent seven years earning the respect he commanded Tuesday night.
Trained by Lawton boxing hero Clarence Dewberry who still works the corner every year in Lawton for Toughman, and formerly fighting out of Gill Pelletier's Lawton Boxing Gym, Brewer typifies the Toughman competitor - ordinary working man (Brewer works at the Lawton Goodyear plant), father of four, lots of heart and generally, more of a brawler than a stylized pugilist.
Steve Coppler, President of the Original Toughman Contest, watched Grady compete in the finals Tuesday night, "We are so pleased to add Brewer to Toughman's long roster of recognized names who were able to use Toughman as a stepping stone; that's exactly what our contest is about!"
To view related toughman articles and footage from MBC archived
Click Here