Dr. Jerry Decker's Mission is to Replace Oil Usage with Wind Energy
Board Meeting Slated 11 a.m. Tuesday, Quality Inn
October 29, 2006
By: Dave Rogers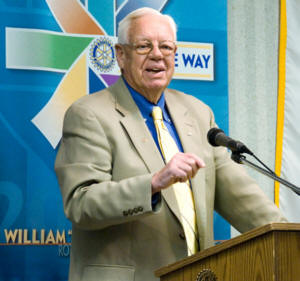 Dr. Jerry Decker speaks to Bay City Rotarians.

THIS WEEK: Joe Thelen and other Ten Minute Rotarians.
UPCOMING MEETINGS: Nov. 7: Guido Gargiullo, scholar.
Nov. 14: Board meeting, 11 a.m., Quality Inn, with President Gena Gates. Field trip to Lumber Barons.
Nov. 21: Gay McInerney, Bay County Historical Society.
Nov. 28: Club Assembly to review options for participation in an international project.
Dec. 5: Erin Dunkle and representatives of social agencies on the Continuum of Care program in Bay County.
PAUL HARRIS FELLOW: Milt Higgs received his Paul Harris Fellowship, Level 1, from Kathy Czerwinski; Citizens Bank made a $1,000 donation to the Rotary International Foundation program.
LAST WEEK'S PROGRAM: Dr. Jerry Decker, Midland Energy L.L.C., introduced by banker Ed Keating.
Dr. Jerry Decker is on a mission.
The mission is to fulfill Project Independence, a blueprint for the nation to escape dependence on foreign oil by 1985.
That's right, 1985. Dr. Decker's project was sidetracked and was abandoned in 1986 when the nation turned to natural gas for chemical feedstocks and electrical generating plants.
"We need to do something, use renewable energy from things we can grow, use wastes, wood and garbage," he said.
Wind power has the greatest potential, said Dr. Decker. There is enough to serve the entire nation with electricity. He noted that vast improvements in wind energy technology have been achieved with new aerodynamic lift rotors and blades.
"The Midland, Saginaw, Bay City areas have enough wind to produce thousands of megawatts of electricity," he commented. "And, it's economical while it's not economical to use the old coal burning technology, which he said releases mercury that pollutes the lakes."
Dr. Decker estimates that 8,000 good paying jobs would be produced just in Bay County with a wind energy program, asking: "Shouldn't we be going after this? We hear a lot of talk about jobs, now we've got to do something about it."
He suggested development of a center in Bay City for production of blades and towers for wind energy. "We could ship the blades anywhere in the world; Bay City is a good place for this business. The free enterprise system is wonderful."
Gougeon Brothers, Inc., once made wind energy blades until the price of oil dropped in the early 1980s and made the business unprofitable.
The development of wind energy in Michigan is being held up by political considerations, he said. "We still need coal and nuclear to cover the 65 percent of the time when the wind doesn't blow," he commented.
He admitted the U.S. "messed up" nuclear energy, allowing Germany to take the lead in that area, but promised: "We'll see nuclear energy come back."