Guido Garguillo, RI Scholar, To Speak to Rotarians This Week
Mark Jaffe, Joe Thelen Ten Minute Rotarians, Our Favorite Programs
November 5, 2006
By: Dave Rogers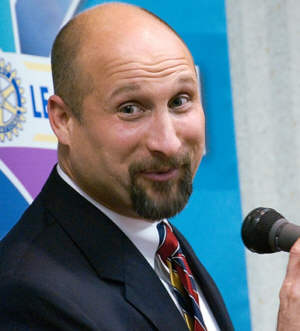 Joe Thelen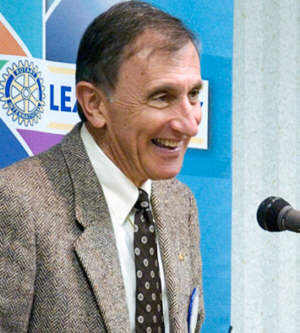 Mark Jaffe
PROGRAM THIS WEEK: Guido Garguillo, Rotary International Ambassadorial scholar.
NEWEST ROTARIANS: Kevin Ayala, Kelly Frick, Sarah Delehanty.
PROPOSED NEW MEMBERS: Kathy Dwyer, Jennifer Carroll.
UPCOMING MEETINGS: Nov. 14, board meeting, 11 a.m., Lumber Barons, 804 E. Midland Street. Tour of Lumber Barons and lunch ($9) to follow in upstairs banquet room. Committee members evaluating Lumber Barons as a new meeting place are Ed Keating, Rob Clark, Kathy Czerwinski and Linda Heemstra. Your input is sought.
CLUB RECOGNITION:Ralph Knop, 2005-2006 President, announced the club has received a Public Relations Award from Rotary International for promoting the good work and objects of Rotary and enhancing the image of Rotary in the community. One of the keys to the award was the dictionary project that furnished dictionaries to all schools in the county and an interview on Bay3TV featuring Ralph, Kim Prime and Chuck Cusick.
LAST WEEK'S PROGRAM: Mark Jaffe and Joe Thelen, Ten Minute Rotarians.
Mark Jaffe's family was from Detroit but he was born in Cheboygan where his father had taken a job in a trading post/general store.
His family moved to Bay City when he was an infant and he attended the old Washington School, an 1880s building that stood next to the present building.
Mark graduated from Central High and attended the University of Michigan on an athletic scholarship. He earned BA and MA degrees and was a three year member of the Wolverine tennis team that was undefeated all three years and won the NCAA championship in 1957.
He was a partner in the family business, Valley Oxygen Co., sold to AirGas in 1984 and still operates Cinderella, Inc., with his son David as president.
Mark is a Certified Financial Planner with offices in the Phoenix building. He and his wife Judy have two daughters and a son and 10, about to be 11, grandchildren, including two sets of twins.
Thirty members of the Jaffe family either have graduated from or are currently attending the University of Michigan, he said: "We're a great U of M family.
Mark has won 135 singles and doubles tournaments and 17 state titles in a long tennis career that is still going on. In 1981 he was the master's champion of the Maccabee International Games in Israel. He is also a member of the Bay County Sports Hall of Fame.
Joe Thelen is general manager of Thelen Chrysler, Kia, Dodge, Honda, Mazda-Volkswagen, Subaru, Audi sales and service. With Standish Ford-Mercury, the business represents 10 auto manufacturers.
He is on the board of the Northwood marketing department, the Michigan Automobile Dealers and the Bay Area Family Y and is a sponsor of the Junior Achievement Program.
The family firm started in 1977 with 19 employees and sold 240 vehicles a year; in 2005 the firm delivered 4,000 vehicles and serviced 25,000 vehicles in four service departments grossing $70 million in combined sales, he said.
The Thelen group is the 32 largest employer in the county and has annual payroll of $6.3 million a year, according to Thelen. Three of the four sites are still operated by family members, he said.
"I've had the opportunity to live the American dream and I fully intend to give back as long as I can," he concluded.###