Shut Bridges? Cut Cops? Hike Taxes? Eric Jylha to Help Us Decide
Six Public Forums to Weigh Revenue Hikes, Staff Cuts, Revenue Plans
November 26, 2006
By: Dave Rogers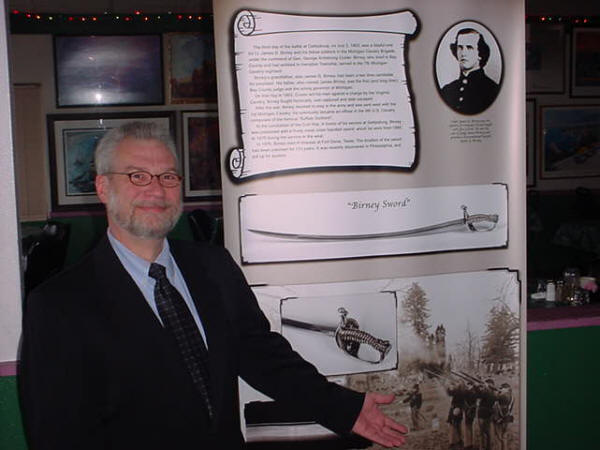 Television broadcaster Eric Jylha is also community activist, civic figure (file photo)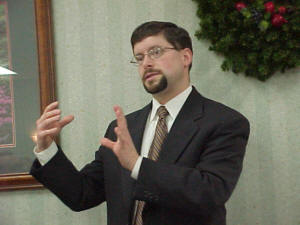 City Manager Robert V. Belleman lists goals that include balanced budget, reducing unfunded liabilities.
City income tax talk got you thinking?
How about a property tax millage hike?
Or how about cutting vital city services like police and fire?
The idea floating out of city hall recently that some bridges be closed part of the year in a cost-cutting measure has already got high public interest.
Now the city is hoping to capitalize by tapping the collective brainpower of city residents to seek solutions to problems.
Broadcaster and well-known civic volunteer Eric Jylha will be helping the City of Bay City find some answers to budget problems and chart a course for the future.
The task of shaping a strategy is complicated by the current economic downturn hitting mainly the Midwest, and a tight job market because of industrial downsizing, globalization and technological change.
One economic forecaster, Dr. Mark Rosentraub, dean of Urban Affairs at Cleveland State University, predicts that the "Rust Belt" -- Michigan and the Upper Midwest -- will make a comeback -- but not until about 2013, at least seven years away.
Dr. Rosentraub's theory is that the new industrial economy has been skewed by cheap Internet communications and improved air conditioning that eases production in warmer climates.
Industrialists will soon realize that expansion has mushroomed in areas that don't have adequate infrastructure and will gravitate back here, says Dr. Rosentraub. "Heating will always be cheaper than air conditioning," he says, suggesting the Upper Midwest invest more in higher education.
Mr. Jylha will facilitate six "Town Hall" public forums to be held after the first of the year, the City Commission has decided, according to Mayor Mike Buda. (Dates or locations of the meetings have not been announced.)
The city faces severe budgetary shortfalls that leave only four areas of service to consider cuts, according to the mayor:
Parks and recreation;
Sanitary collections (trash pickup);
Police;
Fire.
New police chief Michael Cecchini has passed his Michigan law enforcement test and will be on the job beginning Dec. 11 to help with planning, according to City Manager Robert V. Belleman.
Mr. Buda indicated that some departments like economic development and planning departments are independently funded and therefore not under consideration for cuts.
Revenues created in the Bay City Electric Light Department and fees paid to the treasurer's and assessor's office and associated functions fund those departments, he said.
Discussions have considered increasing revenue through millage hikes and/or a city income tax, neither of which is a popular option according to informed observers.
Mr. Belleman said meetings with union officials resulted in a suggestion that each department be allocated a specific dollar amount and that the department decide which services would have to be cut to stay within that budget.
The city manager's goals for fiscal year 2006-2007, approved by the commission, include: produce balanced budget, reduce unfunded liabilities, continue financial planning, continue water/sewer negotiations with out-city customers, improve/increase communication with the public, improve employee participation, Uptown redevelopment, dispose of city-owned property, and continue business attraction/retention/expansion efforts.
Ideas to pump city revenues by expanding areas such as water and sewer services and electric power are already on the griddle. But other, more expansive revenue enhancing notions such as the city offering broadband Internet service are hobbled with current agreements and state legislative threats.
The city is working with a consulting firm that promises to give ideas for savings on insurance costs that run about $1 million a year.
Fred Hollister, of Bay Future, Inc., public-private economic development agency, is working with city staff to assist in formation of a public/private partnership to develop the 48-acre Uptown at RiversEdge, the former Industrial Brownhoist site. Developer Paul Rowley and partners have been in discussions with the city on ideas for the property and a draft partnership agreement is being considered.
Hollister also said the agency is vigorously advertising to recruit firms from other areas and states. Personal contacts are planned with 300 prospects next year, he said. Targets will be value-added agricultural firms, automotive plastics and warehouse distribution, said Mr. Hollister.###