Jill Craybas Wins Second Dow Corning Tennis Title as Midland Tourney Ends
19th Tournament at Midland Pits Veteran Players in Sunday Finals
February 11, 2007
By: Dave Rogers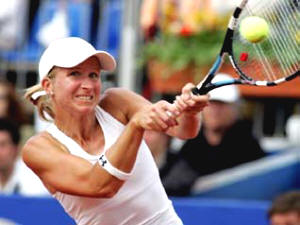 Jill Craybas shows her fitness in winning her second singles title at the Dow Corning Classic in Midland.
How does a 32-year-old female tennis player succeed on the pro tour competing against players as young as 14?
Fitness is the edge, says Mike Woody, executive director of the Midland Community Tennis Center and the Dow Corning Tennis Classic, who emphasizes that factor with his popular Cardio Tennis.
The 19th consecutive version of Michigan's only professional tennis tournament wound up here Sunday, with No. 1 seeded Jill Craybas, 32, of Huntington Beach, Calif., winning her second Midland title.
The winner took home $11,400 while the runnerup netted $6,800.
Craybas had to fight off a stomach ache in the semi-finals and then was able to come back after a first set loss in the finals and defeat No. 2 seed defending champion Laura Granville, 26, of Chicago, 2-6, 6-3, 6-3.
"It feels really good anytime you win a tournament," said Craybas. "Of course it's a little bit more exciting to win one twice. This win was especially tough. Laura (Granville) is a tough competitor."
"With the win, Craybas now becomes the only player in tournament history to repeat as champion of the USTA Pro Circuit $75,000 Dow Corning Tennis Classic," said Woody. "She has emphasized fitness in the last year or so and it paid off."
Craybas' last USTA Pro Circuit title was at the 2004 Midland tournament, she now has three singles titles on the USTA Pro Circuit and four total, which includes one in 2002 at the Tokyo, Japan. Craybas will take a few days off before heading to the Regions Morgan Championships and the Cellular South Cup in Memphis, Tenn., Feb. 19-25.
Granville's last USTA Pro Circuit singles title was at the 2006 $25,000 Charlottesville, Va. event. She currently has six professional titles on the USTA Pro Circuit.
The finals at Midland were the first time Craybas and Granville have played against each other. Granville took command early and won the first set 6-2.
"To lose the first set was a bit disappointing," said Craybas. "But I tried to be more consistent and keep pushing the balls deeper. The second set was really close, but once I got the lead I felt better and more confident."
The 32-year old defeated Granville in the second set and did so by winning all four points to win 6-3 and force a third and deciding set.
Craybas used her fourth service chance and defended Granville's one final time pushing her to her second Midland title and making her the only player in tournament history to repeat as champion.
In the doubles championship, Granville and Abigail Spears of San Diego, Calif. defeated Maureen Drake and Stephanie Dubois of Canada, 6-4, 3-6, 6-3. It was the second doubles title for Spears at Midland.
Granville now has four doubles championships with the last one coming from the $50,000 San Francisco with Gullickson in 2006, while Spears now has 10 doubles titles, with the last one coming in 2006 at the $50,000 Lexington, Ky. with Chan. It is the first Midland doubles championship for Granville. Spears won the doubles title with Ashley in 2003. The duo has won two titles together, including this year?s Midland crown and the WTA Cincinnati in 2005.
?I didn?t have a ton of energy heading into the doubles match,? said Granville. ?I was a little bit disappointed because I was hoping to come out with a bit more of spark. Abby (Spears) really helped me out a lot today.?
Woody noted the last time the Dow Corning Tennis Classic saw an all American final was in 1998 when Alexandra Stevenson of San Diego, Calif., defeated Samantha Reeves of Redwood, Calif., 7-6(6), 6-1.
This year's tournament featured the youngest competitor in DCTC history -- Michelle Larcher de Brito. A native of Lisbon, Portugal, Brito turns 14 on Monday. USTA rules state players must be 14 to compete in a pro event. de Brito was ousted 4-6, 6-2, 7-5 by Kristina Brandi of Puerto Rico in the second round.
"I think it's exciting," Woody said. "We have a history of these young players coming in and watching their careers grow. When you have a player that young, they play with a lot of enthusiasm."
The tournament also featured a local player -- Northwood University freshman Ashley Neumann, of Canada. She is this year's MCTC Wild Card entry and competed in the qualifying round on Sunday. Neumann went out 6-2, 6-4 to Anna Bartenstein of Austria.
The Dow Corning Tennis Classic is the first of seven $75,000 women's events on the USTA Pro Circuit. The event was first held in 1989 and is in its 19th year, making it the longest running consecutive women's event on the USTA Pro Circuit. It began as a $25,000 event in 1989, became a $50,000 event in 1996, and has been a $75,000 event since 1999.###