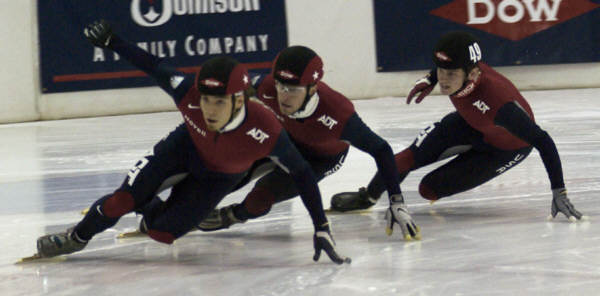 Apolo Ohno wins the 500 meters just ahead of Olympian Rusty Smith. (Photo by Andy Rogers)
---
Bay City Says Yes to Ohno; Speedskater on his Way to World Championships
Fast Civic Arena Ice, Community Support, Win Praise From Meet Officials
March 2, 2003
By: Dave Rogers
The sensational speedskater Apolo Anton Ohno is putting Bay City on the speedskating map this weekend at the Dow U.S. Short Track Championships at the Bay County Civic Arena.
But then, we're already on the Olympic map as the hometown of Terry McDermott, 1964 gold medal winner in the 500 meters at Helsinki, Finland.
Ohno skated away with victories in the 1,500 and 500 meters in his apparently sure fire bid to represent the United States in the World Championships at Warsaw, Poland, later this month.
McDermott's time, on the faster large oval, nearly 40 years ago was 40.1 seconds. The then Bay City barber followed up four years later with a 40.5 time to win the silver medal.
Ohno negotiated Bay City's short track, celebrated in the speedskating fraternity for its fast ice, in 42.535. Ohno's time is close to the speed of the winner at Salt Lake City's 2002 Olympics. Canada's Marc Gagnon finished in 41.802 seconds on the 500 meter short track.
Canada's Jeremy Wotherspoon won the World Cup Long Track 500 Meter Championships Saturday in Inzell, Germany, with a time of 35.42 seconds.
Bay City's Alex Izykowski, 19-year-old son of meet organizer Alan D. Izykowski and Joann Izykowski, is performing well and piling up points to qualify for future championship races.
Caroline Hallisey, 22-year-old Olympian from Natick, Massachusetts, won the 1,500 and 500 meters and was looking for a sweep in the 1,000 meters on her way to the world championships.