Cooking Encyclopedia - Reaction Game - Yard Care
I have some GREAT sites for you this week!
April 8, 2007
By: Karen Polega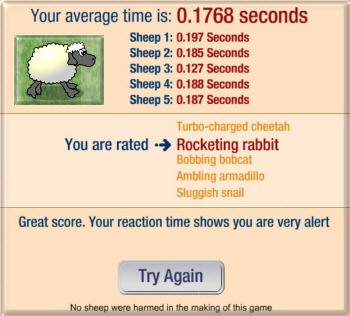 Can you rate Turbo Charged Cheetah?
I found a GREAT Cooking Site for you this week! It's the
Web's Biggest Food Encyclopedia
. It has Recipes, Cuisines, Tips & Tools, Great Graphics and so much more, you'll be sure to want to add this site to your favorites!
You'll have to be fast to rate Turbo Charged Cheetah on
How Fast Are Your Reactions Sheep Game!
(As you can see, I'm still at Rocketing Rabbit. Have Fun trying to beat me.)
Now that Spring is here, (and if it ever warms up) it's time for
Yard Care
. This site has will help you out for all seasons. SPRING, Summer, Fall & Winter. Tips for Landscaping, Lawn Care, Irrigation, Fertilizers, Pest & Weed Control, Planting Guides and so much more.
Click Here
to go to this week's edition of Karen's Korner.
Thanks for stopping by!