Get Ready for GOLF!
Nate Wakefield introduces offerings of Saginaw Golf Center
April 29, 2007
By: Stephen Kent
Visit RotaryBayCity.org, web site of the Rotary Club of Bay City, Michigan
CLUB ANNOUNCEMENTS
Annual Rail Trail Cleanup will be held May 5 from 9:00am until noon. Workers are needed to represent the club!


Host Families needed for our incoming exchange student Mariana from Mexico. See Rob Monroe if you're interested.


Bring a friend to Rotary. For prospective new members we have a supply of the "Rotary Basics" brochures that explain the organization very well.


The Golf Outing planning is well under way for the June 4 event. Visit www.RotaryBayCity.org for full information and an e-mail link to the Golf committee chair. This is the club's SECOND LARGEST fund raiser after International Night.


The Pinconning Club meets every Thursday at noon - Third Street Deli.

---
CLUB NEWS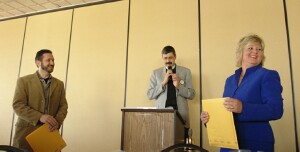 Dan Streeter of the New Samaritan Rescue Mission, and County Clerk Cindy Luczak were inducted as new members. Welcome Cindy and Dan!


Don Anker and Jerry Lewless have returned from the southwest and the southeast. Jerry presented a club flag from Naples Florida.


The District GSE Team to West Africa has posted pictures and a progress report on their blog. Check www.RotaryBayCity.org for team itinerary and the link to the team's blog.


International Night planning is well under way. This is the club's largest fund raiser. Helpers are always needed and welcome. Contact sub-committee chairs:

Larry LaPorte - tickets
Brad Kessel - sponsorships
Linda Heemstra - greeters
Mike Stoner - bar tenders
Barb Fisher - decorations, food and setup.




---


Upcoming Programs (See the official schedule at RotaryBayCity.org)


May 1 Steve Anderson from the ISD will tell us about the new high school curriculum that will go into place this fall.


May 8 ABC12 Anchor Terry Camp's behind the scenes look at the Great Lakes Loons.


May 15 Dom Monastiere, Jerome Yantz, Joy Baker, Valerie Roof will ammounce a new community event.



---





Last Weeks program - April 24, 2007: Golf Warm Up for Spring


Nate Wakefield, Directory of Operations at the Saginaw Golf Center presented a slide show and discussion of the offerings of the Saginaw Golf Center. (SaginawGolfCenter.com).

The 38 acre facility offers a state of the art training and practice center for golfers. The facility includes grass tees, a short game area, a 25,000 sq foot putting green and 27 heated and lighted tees for year round practice and instruction.

Wakefield's slide show illuiminated the facilty's features and programs. Teaching studios allow private instruction, with full computer and video analysis, in a room that opens onto the range.

Club fitting services use the newest technogoly go analyze the golfer's swing to guide the fitting of club to swinger.

Visit SaginawGolfCenter.com for a full tour of the facility. Or visit in person at 5200 Tittabawassee in Saginaw.


0202 nd 03-20-2019