Prepare To Be Amazed!
Wild Bird Guide, Puzzles & The Mystical Ball!
April 29, 2007
By: Karen Polega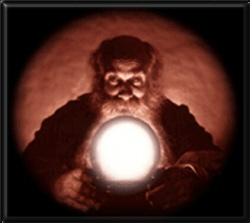 He will read your mind!
Hello All & Welcome Back To Karen's Korner!
This week I have a
Wild Bird Guide
. They grace our skies and fill our trees, but do you know what kinds of birds live in your back yard? Get to know our wild feathered friends. Great Site with Great Photos. Check it out!
Like to build jigsaw puzzles? Well do it on-line I have a Jigsaw Puzzle Paradise.
JigZone
is an online Jigsaw Puzzle where you choose the level of difficulty from a simple 6 piece cut to a challenging 247 piece cut.
A Puzzle A Day
Thousands of Puzzles
Upload your own photos to build
Embed jigsaw puzzles on your web page
Compete with others
Jigsaw Puzzles are also GOOD for your brain!
My last site this week is a mind boggling
Mystical Ball
it can actually read your mind. (it did mine) Be prepared to be amazed. I am.
Click Here
to go to this week's edition of Karen's Korner.
Have fun and see you all next week!