The Great Lakes Loons: Breaking News, and History in Local Baseball
First Area Professional Baseball Team in Decades Hits Home Run
May 8, 2007
By: Dave Rogers
Visit RotaryBayCity.org, web site of the Rotary Club of Bay City, Michigan
CLUB ANNOUNCEMENTS
The Pere Marquette Depot renovation project is well underway. As a major contributor, the Club is being asked to come up with suggestions for ways to recognize our gift. A committee has been formed. See President Gates if you are interested.


Bring a friend to Rotary. For prospective new members we have a supply of the "Rotary Basics" brochures that explain the organization very well.


The Golf Outing planning is well under way for the June 4 event. Visit www.RotaryBayCity.org for full information and an e-mail link to the Golf committee chair. This is the club's SECOND LARGEST fund raiser after International Night.


The Pinconning Club meets every Thursday at noon - Third Street Deli.


International Night committee will meet Tuesday May 15 at 11:00 just before the regular club meeting.

---
CLUB NEWS
The District GSE Team returned from their trip to West Africa. Team leader Connie Schweitzer gave a very brief report and presented President Gates with some club flags. A complete program will be presented to the club soon. The flags have been scanned and added to the club web site's flag collection:

De-Kara-Togo-West-Africa
Dakar-Soleil-West-Africa
Dakar-Almadies-Africa
Dakar-Millenium-West-Africa
St-Louis-Senegal-West-Africa



The Community Grants Committee reported the following grants, totaling $10,000, were approved for this cycle. Several grants were recommended for matching District Simplified Grant and two such grants were awarded.

Bay Sail Environmental Science Study Program $1,000
Literacy Council K-3 Summer Tutoring Program $,1500
Pinconning Area School District and Rotary Club of Pinconning $1,050
PLUS District Grant
Bay Arenac ISD Imagination Library $1,000
Camp Fish Tails Art Supplies for camp program $1,000
Bay Arts Council HHM Film Festival $2,000
Saginaw Basin Land Conservancy (Four Preserves Signage) $1,000
Studio 23 in collaboration with Bay Area Head Start Art Program $1,450
PLUS District Grant



Dues Increase: In response to a dues increase by Rotary International, the board approved a club dues increase of $1 (one dollar) for each six month cycle over the next three years.


RI Grants for building projects have now been approved. This will make it easier to fund a variety of potential projects.


The Pinconning club reports 15 committed members of the 20 needed to be chartered.
---

Upcoming Programs (See the official schedule at RotaryBayCity.org)


May 15 Dom Monastiere, Jerome Yantz, Joy Baker, Valerie Roof will announce a new Martin Luther King community event.


May 22 The returning Group Study Exchange Team will report on their trip to West Africa.


May 29 Pere Marquette Depot Project


---
Last Weeks program - May 8, 2007: Terry Camp Talks About Loons Baseball Book
Terry Camp told Bay City Rotarians the news, and history, about the Great Lakes Loons last Tuesday.

It's been about 80 years since the last professional team in the area, the Bay City Wolves, prowled local Clarkson Park on Center Avenue under the financial tutelage of the legendary James E. Davidson.

The Depression and changing trends that shifted from local pro teams to more centralized operations like the Detroit Tigers took the sport far from local fans, although train excursions from Bay City took as many as 2,000 to games in Detroit in the 30s and 40s.

The growth of minor league teams is a recent trend and this area is finally getting on board. The opportunity came with the folding of the Battle Creek Devil Rays last year after 10 years of operation in the Cereal City.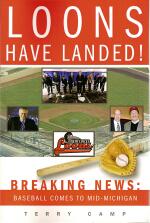 Camp, a TV-12 newscaster who covers the Bay City-Midland area, sensed a history-making event when the Midland Baseball Foundation was formed Jan. 12, 2006.

It's not totally a sports story, either. "The Mid-Michigan baseball story is the best possible economic news in some time," said Camp. The Loons are affiliated with the Los Angeles Dodgers.

He began documenting the story for a book and the result in a red-covered 158 page, fast-moving, easy-reading paperback that, in news parlance, "nails" the story. It's called "Loons Have Landed."

Bay Cityans can find the facts why the baseball team didn't end up here: one main reason is because the proposed stadium site at Uptown at RiversEdge, had been cleaned up with a state grant that didn't allow a casino or baseball stadium.

"Bay City would have been a great place to have a team," Camp allowed. But it wasn't fated to happen, even though the first pitch had been made about a team in Bay City in 2004 by Joseph Heller of the Columbus Catfish.

How former Dow Chemical board chairman Bill Stavropolous put together the funding and got the stadium built is a saga of business success worthy of documentation.

The $30 million project includes a scoreboard that alone cost $1.2 million. "They wanted to make sure the team stays in the community so it is run by a non-profit corporation." That means the team doesn't need to always make a profit to survive, problem with many minor league teams.

When the Loons took the field recently in the spanking new Dow Diamond it was the confirmation of a successful start-up and the beginning of a new era in baseball in the tri-cities.

The Loons are one of 14 teams in the Midwest League. "Minor league baseball develops young players while providing family entertainment, and I can't think of a better place for both than mid-Michigan," said native Midlander and former Houston Astros manager Terry Collins. ***





0202 nd 03-20-2019