13th Annual REALTOR Auction is Huge Success
Big Turnout Raises Big Money For REALTOR Projects
June 10, 2007
By: O. J. Cunningham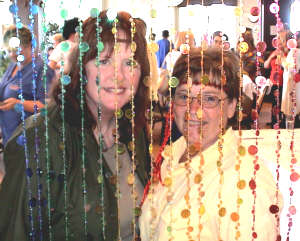 Colleen Koss & Jean Adamowski from the REALTOR Association greeted guests at Lumber Barons. The party had a Woodstock theme.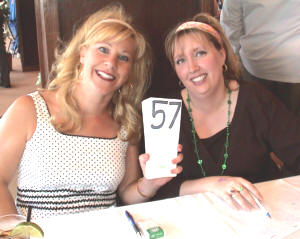 Lisa Schroeder and Jenni Lamblin sold tickets to REALTOR Auction-goers at Lumber Barons
Lumber Barons Restaurant Manager Nick Yacklin was happy.
Bay County Realtor Association President, Charlene Rupp was happy.
Bay County REALTOR Association CEO, Bob Adamowski was happy.
What was the reason for all the happiness?
It was the huge turnout, great food, great location and general over-all success of the 13th Annual REALTOR Auction held last week at Lumber Barons on Bay City's Midland Street Business District.
The theme of the evening was "Woodstock" and a good number of participants wore costumes that were typical of the "flower power, hippie crowd" of the 1960s.
Yacklin said it was a great group and that "Live" auction events are a specialty for Lumber Barons. "This is our first time hosting this particular REALTOR function," Yacklin said. "I'm looking forward to a long relationship."
Rupp had nothing but praise for the Lumber Barons crew. "The chicken is tasty, the food is excellent and the atmosphere is fabulous," Rupp said. She went on to say that the REALTOR Auction is the "event of the year" for the Association.
Adamowski agreed. "This is the primary fundraiser of the year for the REALTOR Association," Adamowski said. Adamowski pointed out that the money from the event is put back into the community.
Projects funded include: Princess Wenona Boat Rides and Wings of Mercy Flights. Also each summer, the Association sponsors one of the entertainment group that performs at the Bay Arts Council's Wednesday night Wenona Park Band Shell events.
"We had over 150 turn out for tonight's auction and dinner," Adamowski said. "That's just wonderful."
Chrystal Short was chairman for the Auction Committee that worked hard to bring over 100 items to the event. "Ninety to one hundred items is typical," Short said. "This year we had fifty-four items for the Live Auction and another fifty for the Silent Auction," Short said. "It gets better every year."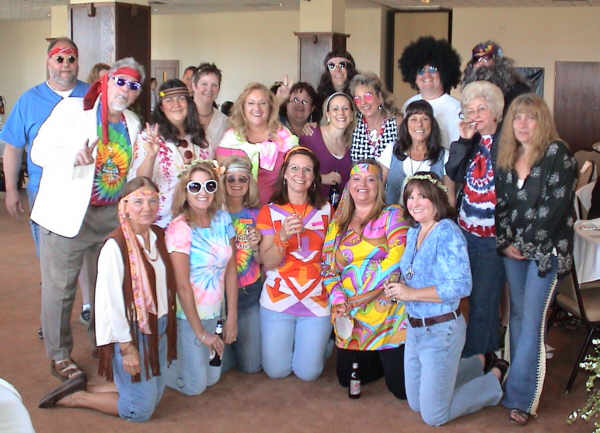 FLOWER POWER: Many auction-goers dressed in Woodstock costumes. Pictured above are: Front Row Kneeling (L-R): Char Keit, Lori Pfund, Joan Fehrenbach, Cindy Sinicki, Nicole Stocker, Gina Escamilla. (2nd Row) Mike Grabowski, Chris Skrocki, Charlene Rupp, Maureen MacKenzie, Carol Duncan, Chrystal Short, Dorothy Cauchy, Cathy Galiardi. (Back Row) Jay Malenfant, Sharon Brown, Linda Jones, Wade Eckenrod, Mark Duncan and Sean Herrera.