Rotary Foundation Topic of Program
June 17, 2007
By: Stephen Kent
Visit RotaryBayCity.org, web site of the Rotary Club of Bay City, Michigan
CLUB ANNOUNCEMENTS
Bring a friend to Rotary. For prospective new members we have a supply of the "Rotary Basics" brochures that explain the organization very well.


Dues Are Due! Dues invoices have been passed out or mailed to all members. Please submit your payment as soon as possible. Please note that in response to a dues increase by Rotary International, the board approved a club dues increase of $1 (one dollar) for each six month cycle over the next three years.


Breezes Reporters Wanted: If you'd like to help write the weekly Breezes please see Steve Kent. It's an easy job. No experience necessary. High Pay (well at least a lot of thanks).


GSE Team forming: Destination Australia. Member Dee Dee Wacksman has applied to be the Rotarian Team Leader for the districts upcoming GSE visit to Australia.


Reminder: Zone Meeting on Membership is scheduled for July 27 and 28 in South Bend Indiana. The district is chartering a bus for any interested members. Cost is $35 and the bus departs from Owosso.


The Pinconning Club is very close to their 20 members required for charter. It should happen in the next month or so! The Pinconning Club meets every Thursday at noon - Third Street Deli.


The Big Board will be at every meeting until International Night. There are jobs for everyone and every one's name is on the board. Sign up soon.

---
CLUB NEWS


Depot Project is ahead of schedule. The club has been asked to submit ideas for its part as soon as possible. See Gena if you want to get your ideas in.

International Project: Rob Clark announced that the international service committee is proposing a joint project to plant fruit and nut tree plantations in Senegal. The project will be spearheaded by the Bay City club which will collaborate with clubs in Senegal. This is an established program which has planted over 300,000 trees in recent years. The goal is to plant a million trees, which cost about $600 for a 200 tree plantation. The plantations are run by local villages as a sustainable industry.

The Dictionary Project is getting organized. We'll be distributing more books this year. The committee has suggested that the club expand the project, which gives dictionaries to every 3rd grader in the Fall, to include a Thesaurus project for 4th graders each January.

---

Upcoming Programs (See the official schedule at RotaryBayCity.org)


June 19 How is our Social Security Program? What changes are coming to the Act? Will we have funds in it when we retire?


June 26 Incoming President Rob Clark tells us all about his trip to Salt Lake City to attend the 2007 Rotary International Convention.


July 3 Passing of the Gavel as Rob Clark takes the reins as President for 2007-2008.


---
Last Weeks program - June 12, 2007: Rotary Foundation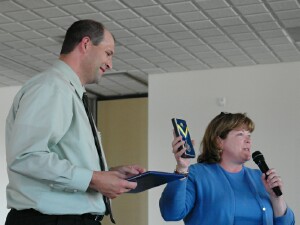 Support of The Rotary Foundation is considered a duty and obligation for Rotarians. The goal is "every Rotarian, every year" which asks that every member contribute something, regardless of the amount.

The Foundation was the topic of the meeting and a highlight was Kathy Czerwinski's presentation a Paul Harris to incoming President Rob Clark. Kathy used her recognitions points to make this award. Rob will be able to wear his PH pin at the international convention in Salt Lake this coming week.

The Paul Harris Award recognizes Rotarians who have contributed $1,000 to the Foundation. Additional contributions qualify the member for additional recognition as "levels". In addition, these extra donations accumulate "recognition points" which can be used to grant a Paul Harris Fellow to any person in recognition of service. Kathy used her points in this way.

Recognition points can be used in other ways as well. Several members volunteered their points to a pool which the club will use for matching grants to help members reach their first level Paul Harris award. In the past the club has done this as well as to award PH fellowships to deserving members of the community.

It's hard to capture in a few words the great work that has been done by the Foundation since its beginning in 1917. The goal is to "promote peace and understanding throughout the world" and that is just what it does.



0202 nd 03-20-2019