Social Security Topic of Program
June 24, 2007
By: Stephen Kent
Visit RotaryBayCity.org, web site of the Rotary Club of Bay City, Michigan
CLUB ANNOUNCEMENTS
Bring a friend to Rotary. For prospective new members we have a supply of the "Rotary Basics" brochures that explain the organization very well.


Dues Are Due! Dues invoices have been passed out or mailed to all members. Please submit your payment as soon as possible. Please note that in response to a dues increase by Rotary International, the board approved a club dues increase of $1 (one dollar) for each six month cycle over the next three years.


Breezes Reporters Wanted: If you'd like to help write the weekly Breezes please see Steve Kent. It's an easy job. No experience necessary. High Pay (well at least a lot of thanks).


Reminder: Zone Meeting on Membership is scheduled for July 27 and 28 in South Bend Indiana. The district is chartering a bus for any interested members. Cost is $35 and the bus departs from Owosso.


The Pinconning Club is very close to their 20 members required for charter. It should happen in the next month or so! The Pinconning Club meets every Thursday at noon - Third Street Deli.


The Big Board will be at every meeting until International Night. There are jobs for everyone and every one's name is on the board. Sign up soon.

---
CLUB NEWS


Depot Project: Member Ron Bloomfield, Curator of the Historic Museum, will chair the committee to decide on a fitting marker for Rotary at the Depot restoration project.

Camp Rotary Boy Scout Camp in Clare is starting it's 87th camping season. Participation is up 9% over last year with a 75% increase in adult participation. If you're going to be in the Clare area be sure to visit the camp.

---

Upcoming Programs (See the official schedule at RotaryBayCity.org)


June 26 Incoming President Rob Clark tells us all about his trip to Salt Lake City to attend the 2007 Rotary International Convention.


July 3 Passing of the Gavel as Rob Clark takes the reins as President for 2007-2008.


July 10 Real Estate sales in Bay County


---
Last Weeks program - June 12, 2007: Rotary Foundation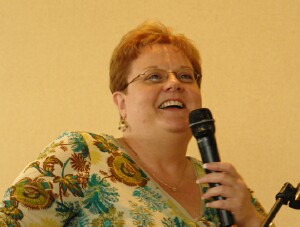 Marsha Young of the Social Security office in Bay City presented a program and answered questions about Social Security and what can be expected. "The first question we always get is 'will there be funds available when I'm eligible to receive them?' The answer in a word is YES". Young went on to say that Social Security has become too much a part of American life to let the system fail. On the other hand, the benefits have and will continue to change and adjust over time.

Among the things likely to change is the retirement age. At this time you can begin to draw benefits at age 62, but at a slightly reduced rate. As the age goes higher, people will pay in longer and delay the time when they begin drawing benefits.

When originally conceived, Social Security was intended to be a supplemental program to merely assist people in their retirement years. Folks were expected to have saved on their own for their basic support. As the plan expanded it incorporated support for widows and children in various ways. Today it also incorporates Medicare, although that program is administered by another agency.

The decision about when to begin taking benefits depends on individual circumstances. At this time you can continue to work, even full time, after you qualify and begin receiving benefits. Your benefits are calculated on your entire work life experience. The agency uses a formula that excludes your lowest five years of earnings. If you continue to work, you can ask to have your benefits recalculated.

The most important thing a person should do prior to retirement is to review their annual Social Security report. If you are not receiving this report you should check and see why. If your report is incorrect you should check that now, while you are likely to still have your tax returns and other supporting documentation handy.

If you have questions or need assistance with your Social Security account, you can visit the agency's web site at www.ssa.gov or call the local office at (989) 892-1578.



0202 nd 10-17-2019