Stables Michigan Challenge (Idol)
Cuts Field Down to Final Ten
10 Singers to Compete for 5 Weeks to Win Trip to Las Vegas
July 1, 2007
By: O. J. Cunningham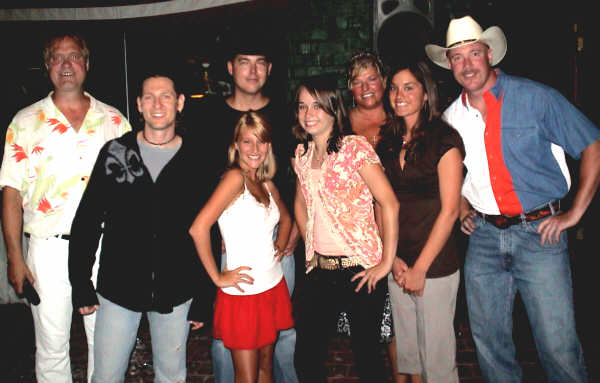 TOP 10 - L/R) Front: John Cudworth, Kate Gembrowski, Jenna Moeggenborg & Kalei Souza. (Back) Host Doug Dore, Steve Armstrong, Karen Powell & Carl Neveau. Missing are Carrie Jones, Ashley January & John Dukarski.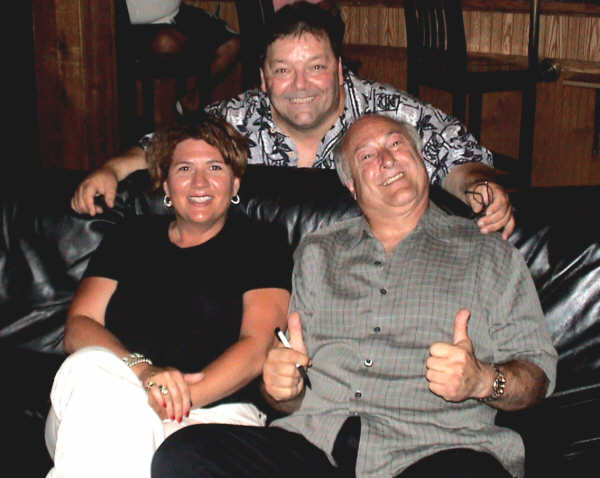 100 Years Musical Experience: Michigan Idol Competition Judges - (L/R) Carrie VanDell, Ron Graham and (Behind Couch) Chief Judge, Mike Sheets. The three judges have a total of over 100 years of musical experience between them.
Michigan Challenge (Idol) Chief Judge
Mike Sheets
knew that the final judging night at Stables was going to be a like a night in a pressure cooker..
But Sheets, the Chief Judge for the Michigan Challenge (Idol), was up to the task and loaded the judges' couch with over 100 years of musical experience to make the job a complete success.
Sheets called on fellow bandsman,
Ron Graham
and accomplished pianist
Carrie VanDell
to help him out during the final five weeks of the Michigan Challenge (Idol) competition. These judges will be there every Wednesday for the next five weeks.
Graham has over 40 years of musical experience as a bass player for Infinity and Paisley Fogg. VanDell is an accomplished pianist (20+ years) and is the wife of Scott VanDell of Soul Xpress. Sheets is a regular performer at Stables and has been playing keyboard, drums and arranging music for over 42 years.
Sheets and his judging crew watched 22 finalist on Wednesday night at Stables, then huddled up to compare notes and made the Final Cut to 10.
Finalists Are:
Carrie Jones
John Dukarski
Steve Armstrong
Kalei Souza
Kate Gembrowski
Jenna Moeggenborg
John Cudworth
Karen Powell
Carl Neveau
Ashley January

These 10 finalists will now compete for 4 weeks beginning Wednesday July 11, 2007 at Stables Cigar & Martini Bar on Bay City's West Side.


The finalists will perform Rock Music on July 11, Motown on July 18, and Country on July 25. On the final night of competition before the Pig Gig (August 1), the singers may choose a song of any type.

On August 1, the judges will choose 4 singers who will face off during the annual Pig Gig celebration down at Vet's Park. The 2007 Pig Gig is the following weekend -- August 2, 3, 4 & 5.



Online Voting Sponsored by Dick Bork of Labadie Auto & Ray Stack of Silver Sand Limo.




Vote Now - Click Here

Vote For Your 3 Favorites

Remember . . . You May Only Vote Once Per Day
| | | | |
| --- | --- | --- | --- |
| Ashley January | John Dukarski | Carl Neveau | Karen Powell |
| | | |
| --- | --- | --- |
| Jenna Moeggenborg | Carrie Jones | Kalei Souza |
| | | |
| --- | --- | --- |
| Steve Armstrong | Kate Gembrowski | John Cudworth |
Vote Now - Click Here

Vote For Your 3 Favorites

Remember . . . You May Only Vote Once Per Day

Online Voting Sponsored by Dick Bork of Labadie Auto & Ray Stack of Silver Sand Limo.


0202 nd 09-14-2019