Hotels Planned at I-75 Pinconning Exit To Serve Tourists, Casino Traffic
Big Box Store Like Wal-Mart Also Sought for Newest Hot Corner in Bay County
July 1, 2007
By: Dave Rogers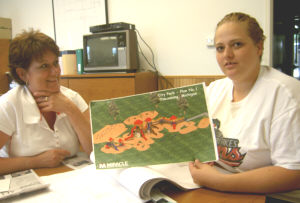 Pinconning Township Supervisor Sharon Stalsberg, left, and DDA Administrator Joanna Moody, show plans for a park playscape development while discussing economic development with a MyBayCity.com reporter.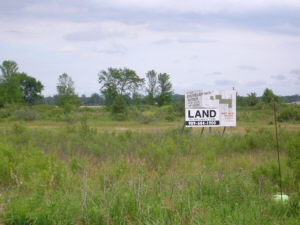 Vacant land at I-75 and Pinconning Road behind existing businesses is planned for location of an expanded township sewer system that will serve hotels and other developments at the DDA site.
A Chippewa tribe casino now under construction on Worth Road at Saganing already has sparked additional development, according to Pinconning Township officials.
A hotel previously planned for the I-75 exit at Pinconning Road has been expanded from 60 to 83 units and another hotel-motel may be in the future, said Sharon Stalsberg, Pinconning Township supervisor and board member of the Pinconning Downtown Development Authority (DDA).
The 83-unit hotel, planned by local developers, may be part of the Choice national hotel chain, which also carries the Clarion flag recently approved for the Bay Valley Resort Hotel, said Ms. Stalsberg.
She also has bigger plans for the DDA development site. "I'd like to see a big box store like Wal-Mart out there," she exclaimed.
Landowners at the DDA site include Stanley Firkser, owner of Norman's clothing store chain; Tom and Dan Courtemanche, owners of Green Hills, the Dream and the Nightmare golf courses; Ted Lezotte, of West Branch, owner of McDonald's; Harold Johnson, owner of the Pinconning Cheese House; Ron VanTol, Helms Trucking, oil company and truck stop owner Galen Wilson, Ron Gage, Sam Bishop, John Foster, the Penners, and others.
Key to the hotel projects, and other development, is a planned $1.8 million sanitary sewer and lagoon treatment facility. The first public hearing on a special assessment district has already been held and plans are for each commercial parcel to pay a $37,000 fee per tap, regardless of size of parcel.
Two smaller treatment lagoons will be expanded and connected to the main township lagoon located behind McDonald's, the supervisor said. The proposed hotel site is reportedly across the road from McDonald's.
The township has received a 45 percent match of funds for the sewer expansion from the U.S. Rural Development Administration, according to Ms. Stalsberg. Bonds will be sold to finance the township portion of the costs, she said, and will be repaid by tax "capture" from property developments. The Pinconning Township DDA contains 1,338 acres, according to the DDA plan adopted in 1997. The DDA has 11 years remaining on its contract, officials said. Some of the DDA area reportedly is in P.A. 116 farmland preserve and cannot be developed.
County officials, led by former board chairman Brian Elder, have been reluctant to approve expansion of DDA areas, reportedly because of the loss of revenue "captured" to finance development under tax increment financing(TIF). County opponents of DDAs reportedly feel the county can better use the tax money otherwise captured by DDAs.
DDA proponents, however, make their case that financing infrastructure for developments is only feasible through TIF financing. Without such a procedure to finance economic development, progress may be slowed or halted. They note that jobs and residential growth can only occur if new developments are seeded by DDA financing.
The Pinconning area is considered a good example of these contrasting views since Pinconning has lost several key job-producing industries in the past decade, including the Kraft cheese plant, and has experienced reductions in employment at Magline and Northern Tube.
Township officials have met with the Chippewa Tribe and are hoping to interest them in connecting to the township water line that will run less than a mile from the casino. The tribe's other option is to connect to the Standish water system six miles away. Reportedly, no decision has been made by the tribe on water and sewer connections.
Right now the Saganing community center is hauling water and pumping and hauling sewage, according to officials.
Although the tribe has acquired several parcels of land on three corners at Worth Road and M-13, no plans to build a hotel have been announced. The tribe also reportedly has acquired the Great Lakes Shores Marina on Sagatoo Road and property on Shore Road to Saginaw Bay. Rumored plans are for a boardwalk and dock capable of serving Great Lakes cruise ships.
The tribe has not planned a large restaurant at the new casino, projected to open by Christmas according to a recent news release by the tribe.
The Pinconning exit off I-75 is the handiest for casino patrons coming from the south to access Worth Road in Standish Township. Most casino traffic is expected to come from that direction because of a heavier downstate population base than from the north.
Pinconning Township, with about 3,000 residents and total state equalized valuation (SEV) of about $73 million, has exceeded the City of Pinconning in both categories, according to township officials. The city has about 600 residents and slightly less SEV, they said.###