Bay County Real Estate Said Affordable, Buyer's Market, Near Record Volume
Market Correction Was Necessary, Rotarians Hear From REALTOR Group Exec
July 15, 2007
By: Dave Rogers
Visit RotaryBayCity.org, web site of the Rotary Club of Bay City, Michigan
CLUB ANNOUNCEMENTS
Help Grow Our Membership. President Rob Clark has set a goal of 130 members by year end. Since clubs typically lose 10 members a year, that means we need 20 new members. INVITE A FRIEND!


Dues Are Due! If you have not paid your dues, please get them in immediately.


Breezes Reporters Wanted: If you'd like to help write the weekly Breezes please see Steve Kent. It's an easy job. No experience necessary. High Pay (well at least a lot of thanks).


If you have International Night auction items it's not too early to let the committee know about them. A form is available for download on the International Night page of the club web site.

---
CLUB NEWS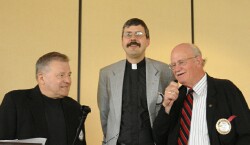 Dave Rogers re-introduced Jim Hollerbach who has returned to the club. Welcome back Jim.

President Rob reported on the morning's board meeting. Among the news is that the budget was approved at a higher level than last year. Among new items are $2,000 more in community grants and a thesaurus project to go with the dictionary project. To help cover this increase the club will add a third fund raiser to the calendar.

A committee has been formed, headed by Ron Bloomfield, to decide on a Rotary recognition item for the depot project.

Larry LaPorte, birthday chairman, will begin sending letters to members each month reminding them of the birthday table and the suggestion that they make a donation to the Rotary Foundation.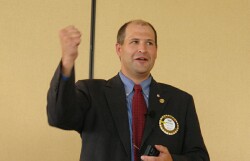 Attendance Expected! said President Rob. Rotary recommends 60% attendance of all members. You are encouraged to come to meetings!

If you need more encouragement just remember that we'll be singing more this year. Tuesday's meeting was kicked off with a rousing course of "My Bonnie Lies Over the Ocean".

---

Upcoming Programs (See the official schedule at RotaryBayCity.org)


July 17 Hemlock Semi Conductor: They make the most pure material on Earth.


July 24 How does OUR local VA Hospital measure up with our Veterans?


August 14 Good Samaritan Rescue Mission and Do-All, Inc.


---
Last Weeks program - July 10, 2007: Bob Adamowski Addresses Real Estate Market in Bay Area.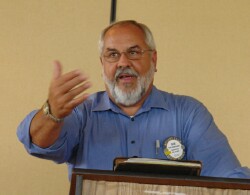 Bay County real estate prices and dollar volume are down, but sales totals are at near record levels, said Bob Adamowski, executive officer of the Bay County REALTOR Association (BCRA), who spoke last Tuesday at the Rotary Club of Bay City.

After handing out "BUSINESS IS GOOD" buttons to each table, Mr. Adamowski, introduced by programmer Barb Dinauer of First American Title Co., took the microphone to give the local association's side of the real estate sales picture.

The industry is dealing with mortgage fraud issues discussed in a previous Rotary program, he said. "The market is decent but because of people's misfortunes there have been foreclosure issues," he said.

Mr. Adamowski attributed real estate problems to the national media, Internet lenders and the fact that we are in a global market. Much market momentum, or lack thereof, is driven by the media, he said. Michigan was the second highest state in terms of foreclosures last year, according to the real estate executive.

Mr. Adamowski has 27 years experience in real estate including 12 years as executive of the local organization, with headquarters in Commerce One, home of the Bay Area Chamber of Commerce, at Fifth and Saginaw streets.

Bay County logged record sales 2000-2005, he said, with every year getting better and constantly appreciating values.

It is currently a "buyer's market," offering outstandingly affordable values said Mr. Adamowski, noting that there are 1,249 residential properties, 214 lots and land parcels and 48 income properties currently on the market.

Last year's cyclical downturn in prices was necessary, he said, commenting: "It was time for the market to adjust itself."

He advised home buyers and sellers to deal with local Realtors and lenders, commenting: "You may get a great deal on line but it will come back to haunt you."

Mr. Adamowski presented statistics showing 1,263 residential sales in Bay County last year, about the same as 2001 that began a record skein of sales, 1,313 in 2002, 1,353 in 2003, 1,413 in 2004, and 1,437 in 2005.

Dollar volume peaked at $153,543,671 in 2005, as did average price of $106,850, he said. This year appears to be on track to approximate recent annual sales totals but the average price has dropped to $93,206, causing a drop in volume, he noted.

June 2007 residential sales of 138 tops the 131 recorded in the same month a year ago, he said, while volume rose from $70,816,939 in June 2006 to $72,607,207 in June this year. Average price of residential sales, however, dropped from $105,649 last year to $94,364 this year in comparable June periods.###



0202 nd 03-20-2019