State Theater August Line Up in Downtown Bay City
American Graffiti - Twisted Pictures - Freshwater
July 22, 2007
By: Mike Bacigalupo - State Theatre

On Thursday,
August 2, 2007
, Gallery Walk Film presents
"American Graffiti"
at The State Theatre at 8:15 p.m.
Two boys are scheduled to leave for college in the morning. Each has his own doubts. They spend a final evening cruising the strip and have every adventure possible before dawn when they will each have to decide what they will do.
Rated PG. Price is $ 5.00
---
State Theatre presents
FRESHWATER
in cooperation with The Bay Arts Council on Tuesday,
August 14, 2007
at 7:00 p.m.
Four post-moderns playing raucous dance music, pop-inspired arrangements of folksongs, and lots of free-spirited step-dancing. Budd Greenman, Nellie Schrantz, Nic Gareiss, and Bill Wiegandt all grew up in mid-Michigan.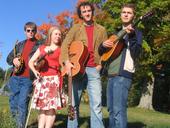 There, nurtured by the musicians in the local old-time and Celtic music circles, they began to absorb the traditions associated with fiddle music and percussive dancing.
Bill learned folksongs from his father, Budd traveled with his mother to fiddle jamborees, Nic learned his first dance steps by watching his parents in their kitchen, and Nellie attended Irish sessions and feisanna.
As FRESHWATER, their mission is to use the music they love to connect with people of all ages and especially to bridge the age gap that often separates young people from traditional music.
Ticket prices are $ 10.00 Adults - $ 5.00 Children and $ 25.00 Family of 4 or more.
Buy tickets on-line.
Click Here
---
Also Scheduled on Saturday, August 11, 2007 . . .
Twisted Pictures
- August 11, 2007 2:00 p.m. & 7:00 p.m.
Nosferatu
- (with bLuE daHLia) August 11, 2007 at 2:00 p.m.
Metropolis
- (with The Bijou Orchestra) August 11, 2007 at 7:00 p.m.
Festival Tickets are $43.00 Reserved, $33.00 unreserved, students $20.00 Includes admission to round table discussion and Meet The Artists reception.
Single tickets are Reserved Seats $23.00, unreserved $18.00, Students $10.00.
Presented by Bay Arts Council, The Bijou Orchestra and The State Theatre.