Jason Jewell The Illusionist
'Re-appears' at Castaways on Mondays
Don't Miss This Eye-Opening Act!
July 22, 2007
By: Julie McCallum, Entertainment Editor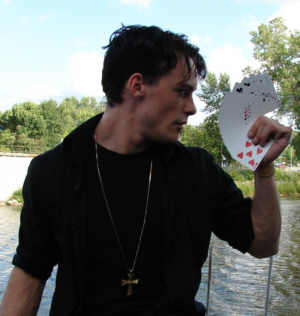 Jason Jewell The Illusionist performs Mondays & Saturdays at Castaways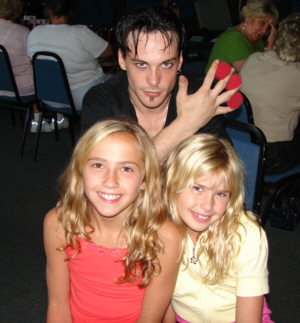 Jewell poses with sisters Kelsey & Sydney
Jason Jewell The Illusionist returns to Castaways Restaurant on the Kawkawlin River in Bay City. It is the place to be on Monday evenings.
Jewell, 24, who was born in Texas is a traveling performer, and has performed all over the country including recently at Venice Beach, California. Jewell got interested in magic about 15 years ago and has been perfecting his craft ever since.
Jewell admits, "I made up my own way of doing magic and then learned ways of doing them easier." One of Jewell's inspirations is the famous American Magician Jeff McBride.
Jewell plans to demonstrate his experiences in many areas including hypnosis, metalism, manipulations, sleights, close up, gaffs, gimmicks, grand illusions and bar tricks.
Also grand illusions, including the Doll House, Ashrah levitation's, and also has been perfecting his own version of Bisection as seen in David Copperfield's Laser Illusion.
So it seems his finales get more extreme each week. Last Monday he swallowed razor blades and ripped a phone book in half. Jewell announced he will be levitating, splitting himself in two and throwing himself in the water chained up.
Jewell also said he does a lot of the stunts that Criss Angel does. (Angel is a well known American magician, musician, mentalist, hypnotist, escapologist, stunt performer, and actor.)
Jewell laughs "I think a lot of people pay to see me, in hopes of me screwing up." Jewell admits, "My life is doing magic all the time, Magic is my Life."
Jewell interacts with the crowd in between acts. He also performs for the kids too. Jewell said, "I try to keep it Disney for the kids and parents, bringing out tricks that the kids love."
(Pictured below)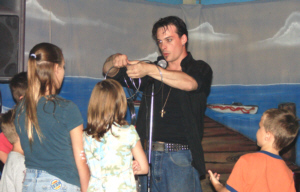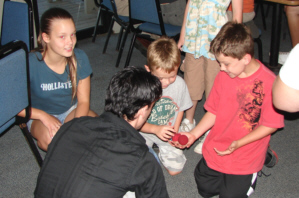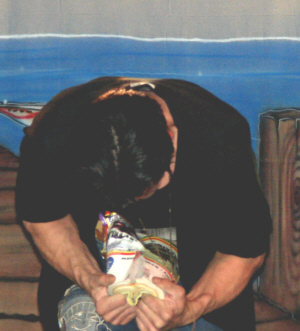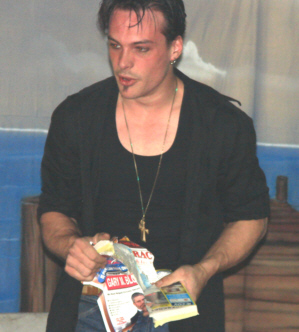 (Above L/R)
Jewell tears a phone book in half.
Don't miss This Extraordinary performance!!
Jewell also performs at private parties. For more information call 1-810-355-2005.
Jewell is live on the radio every week on 102.5 WIOG with DJ Mile High as a traveling performer, and is also giving lessons to beginners in the field.
To see a sneak preview click on the video links below.
(Photos and Video Footage by Julie Munger, MBC Entertainment Editor)
Click Here To See Jewell Video 1
Click Here To See Jewell Video 2
Click Here To See Jewell Video 3