Job Growth at Dow Corning Hemlock Semiconductor Fueled by Market Explosion
July 17, 2007
By: Dave Rogers
Visit RotaryBayCity.org, web site of the Rotary Club of Bay City, Michigan
CLUB ANNOUNCEMENTS
Help Grow Our Membership. President Rob Clark has set a goal of 130 members by year end. Since clubs typically lose 10 members a year, that means we need 20 new members. INVITE A FRIEND!


Breezes Reporters Wanted: If you'd like to help write the weekly Breezes please see Steve Kent. It's an easy job. No experience necessary. High Pay (well at least a lot of thanks).


If you have International Night auction items it's not too early to let the committee know about them. A form is available for download on the International Night page of the club web site.


There will be a new member orientation on Wednesday, Aug 8. Noon at the Steinhouse. Orientations will occur on a six week schedule.


Rob Monroe called for a family to host our inbound exchange student from Mexico. Jeffrey Weenink's family, and Rob's family will each take a three month turn and they need one more family.

---
CLUB NEWS
Welcome David and Jane Wheeler visiting from Grand Junction, Colorado. David presented a Grand Junction club trading flag, which can be viewed on our club's Flags of Rotary page.

As promised the club was given a singing opportunity, even without the usual keyboard accompanist, with a round of "Give My Regards to Broadway" from the blue Rotary songbook.

Anyone need a coon skin cap? Harry Farris caught a critter in his corn.

Happy birthday to Ron McGillivray, who just turned 95! Ron joined the club in 1943, giving him 67 years of service!

---

Upcoming Programs (See the official schedule at RotaryBayCity.org)


July 24 How does OUR local VA Hospital measure up with our Veterans?


August 14 Good Samaritan Rescue Mission and Do-All, Inc.


August 28 The need for mentors for foster children who are teens or have aged out of the system .


---
Last Weeks program - July 17, 2007: Dow Corning's Hemlock Semiconductor Plant Expansion.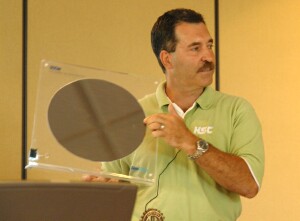 Dow Corning Corp. of Williams Township is the world's leading producer of polycrystalline silicone, and it aims to stay that way.

"The solar market is growing rapidly and over the next 20-30 years will be one of the biggest growth engines in the world," says Gregory J. Skufca, HSC site manager, who spoke last Tuesday at the Rotary Club of Bay City.

To stay ahead of the zooming market, Dow Corning is massively expanding its plant with a $500 million addition currently underway and a $1 billion project slated after that with more expansion contemplated as the market grows.

Dow Corning hired 175 new personnel last year and plans to add 150 employees in the next year and about 500 over the next few years, some of them construction workers on new facilities at the Hemlock Semiconductor (HSC) plant. The firm will employ about 900 construction workers over the next five years.

Want to work for Dow Corning? A good first step is completing the two-year associates degree program in Chemical Processing at Delta College. "If you finish that course we can practically guarantee you a job," said Mr. Skufca.

A 1984 graduate of Ohio State University, Skufca has been HSC site manager since 2004. He is involved in several volunteer activities in the area, including Big Brothers, MBS airport and Workforce Development.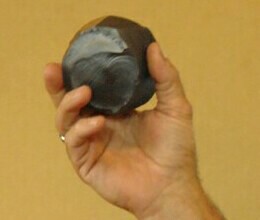 Silicone, the purest material in the world, is used in every electronic and solar device, said Mr. Skufca. The extent of the market is illustrated by the fact that two billion cell phones sold each year all have silicone integrated circuits.

Most Dow Corning shipments of the black silicone product are overseas, but 40 percent are within the U.S., he said.

The Hemlock plant is the single biggest user of energy in Michigan so it has a stake in proposed expansion of electrical generating facilities by Consumers Energy. One top site being considered is at the Karn-Weadock complex at the mouth of the Saginaw River.

Solar energy devices will account for 35-40 percent of the growth in the silicone market, said Mr. Skufca, adding that the world's energy production with shift significantly to solar by 2040.

"Bay County should try to get solar companies to come here and build plants," said Mr. Skufca, dropping a valuable hint to local economic developers who are struggling to replace automotive-related jobs.

###



0202 nd 03-20-2019