VA Hospital System Said To Be Better Than Ever
"It's no longer your grandfather's VA" said Carrie Seward
July 29, 2007
By: Stephen Kent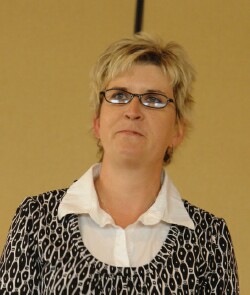 Last Weeks program - July 24, 2007:
"It's no longer your grandfather's VA" said Carrie Seward, Chief of Voluntary Services and Public Affairs Office for the VA's Aleda E. Lutz Medical Center in Saginaw. "Much has changed even since the VietNam days", she said. "The VA is now ranked as one of the best medical facilities in the world."
The Aleda Lutz center cares for Veterans in 35 counties from mid-Michigan to the Mackinaw Bridge and there are currently over 25,000 veterans enrolled for care at the Saginaw Center. The Lutz system includes three Community-Based Outreach Clinics in Gaylord, Traverse City, and Oscoda. The main facility in Saginaw has an 8-bed intensive care unit, a 25-bed medical unit and an 81-bed Skilled Care and Rehab center.
Besides traditional hospital services, the VA provides a number of home care services and far more rehab services than the past. "If we can't provide the service, we can find a provider who can and the VA will cover the costs", said Seward.
Seward made a point of distinguishing most of the VA from the recent problems which have come to light at the Walter Reed Medical Center. "We are accredited and pass many tests in including surprise inspections and reviews. Our facility consistently is rated at the top of the scale."
The VA has been a leader in the computerization of medical records. Patients wear bar coded ID bracelets and all medications are bar coded. Nurses scan both patient and medication insuring proper dosages and use.
Partly in response to the Iraq war, the VA now conducts post deployment interviews with all returning personnel. This helps the vet navigate the system and receive the care that they may need.
For more information visit
www.saginaw.va.gov
---
CLUB ANNOUNCEMENTS
Help Grow Our Membership. President Rob Clark has set a goal of 130 members by year end. Since clubs typically lose 10 members a year, that means we need 20 new members. INVITE A FRIEND!


Breezes Reporters Wanted: If you'd like to help write the weekly Breezes please see Steve Kent. It's an easy job. No experience necessary. High Pay (well at least a lot of thanks).


If you have International Night auction items it's not too early to let the committee know about them. A form is available for download on the International Night page of the club web site.


Rob Monroe called for a family to host our inbound exchange student from Mexico. Jeffrey Weenink's family, and Rob's family will each take a three month turn and they need one more family.


Volunteers are needed for 50/50 sales, lunch money, and greeter for our Tuesday meetings. You are also encouraged to sign up for international night jobs.


You should have received an e-mail inviting you to an International Night committee meeting at Rob Clark's house Wednesday, August 1 at 5:00. Everyone is welcome.

---
CLUB NEWS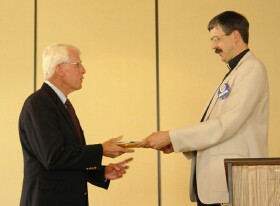 Welcome new member John Ley who was inducted last week. John is a retired Bay City Ophthalmologist.

The Rev. Jonah Salim from Nineveh, Iraq was the guest of Jeffrey Weenink. Those sitting at the table with Jonah enjoyed a very informative conversation about Iraq. Jonah spoke at First Presbyterian church that evening.

The club mourns the loss of long time member and well known Bay City Central High band leader Wally Cramer who passed away Sunday at the age of 92. We fondly remember the times just a few years ago when Wally would come to meetings and lead a chorus of the Rotary theme song.

President Rob related the history of why Rotarians sing. He then lead the club in "Let Me Call You Sweetheart", reputed to be the first song that Rotarians sang. Wally would have been proud.

Harry Farris reported last week that he caught a coon in his corn and dispatched it to a better place. He now says that may have been a mistake because an entire pack of coons seems to have shown up for the funeral.

---
Upcoming Programs
(See the official schedule at RotaryBayCity.org)


July 31 Learn how to get the best results from a digital camera with Rotarian and professional photographer Anne Trahan.


Aug 7 Ten-Minute - our most popular program.


August 14 Good Samaritan Rescue Mission and Do-All, Inc.


August 28 The need for mentors for foster children who are teens or have aged out of the system .


---
Visit RotaryBayCity.org, web site of the Rotary Club of Bay City, Michigan