Rotary Club of Bay City Second in District in Foundation Giving
Professional Photographer Anne Trahan Gives Digital Photo Tips
August 5, 2007
By: Dave Rogers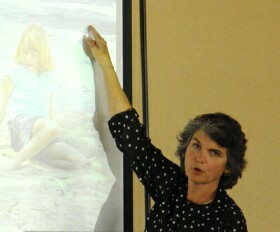 Last Weeks program - July 24, 2007:
Anne Trahan, of Anne Trahan Photography, gave a detailed presentation on "Digital Magic and What Can Be Done." She showed how backgrounds can be cleaned up and art added to enhance photography.
"It's all done in the computer as opposed to real life," she said, commenting: "Almost every image you see has been manipulated."
The most important thing to know about digital photography? "Read your owner's manual," she emphasized. Also, put a date on your digital card so you know how old it is since chips may deteriorate.
Mrs. Trahan also recommended getting a compact flash card and cautioned against leaving digital cameras in cars. "Heat and humidity can destroy your digital card," she warned.
She also predicted that Kodak will discontinue making film soon. The digital world is surely taking over. ###
Photo of Liberty Bridge before and after "painting" process
---
CLUB NEWS
The Rotary Club of Bay City gave a total of $17,658 to the RI Foundation last year, second only to Frankenmuth's $29,000, said past district governor Jerome Yantz at last week's meeting.
The Bay City club gave $12,498 to the foundation and $5,160 to Polio Plus, said Mr. Yantz.
Immediate past president Gena Gates credited Harry Farris as "most passionate about the foundation and an inspiration to the rest of us."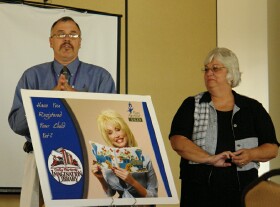 Supt. Mike Dewey and Mary Ellen Bluehm of the Bay Arenac Intermediate School District (BAISD) gave kudoes to the club for its participation in the Imagination Library project last four years.
Incooperation with the Dolly Parton Foundation, the club helped give books to children every month from birth to age 5 in Bay and Arenac counties, said Mr. Dewey.
The BAISD program has raised private donations of over $1 million and Mr. Dewey said the goal is $4 million. The program kicked off in January, 2005.
In July alone 4,323 children in Bay and Arenac counties received books in their name at their home, said Mrs. Bluehm.
The object of the program is to teach children how to read "and we're going to make a difference," said Mr. Dewey. "Our goal is that every child in Bay and Arenac counties will be ready to read when they start school."
The Bay City Rotary Club will be honored at an upcoming event, said Mr. Dewey.
---
Upcoming Programs
(See the official schedule at
RotaryBayCity.org
)
Aug 7 Ten-Minute - our most popular program.


August 14 Good Samaritan Rescue Mission and Do-All, Inc.


August 28 The need for mentors for foster children who are teens or have aged out of the system .

---
CLUB ANNOUNCEMENTS
The August Board Meeting will be held on the 14th at the Lumber Barons at 11:00 a m.


Rob Monroe called for a family to host our inbound exchange student Mariana from Mexico. Jeffrey Weenink's family, and Rob's family will host Mariana for the first and last three month period. A third family is needed for the middle period, which includes the Christmas holidays.


Help Grow Our Membership. President Rob Clark has set a goal of 130 members by year end. Since clubs typically lose 10 members a year, that means we need 20 new members. INVITE A FRIEND!


Breezes Reporters Wanted: If you'd like to help write the weekly Breezes please see Steve Kent. It's an easy job. No experience necessary. High Pay (well at least a lot of thanks).


If you have International Night auction items it's not too early to let the committee know about them. A form is available for download on the International Night page of the club web site.


---
Visit RotaryBayCity.org, web site of the Rotary Club of Bay City, Michigan