Welcome Back To
Karen's Korner
New This Week...neave
And 500 Useless Facts & Micro Maniac!
August 5, 2007
By: Karen Polega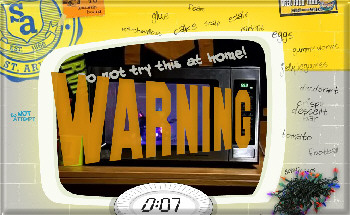 Easy Mac Micro Maniac!
This week on Karen's Korner I have found
http://www.neave.com
for you! This site has nine different site's to check out.
Flash Earth
Neave.tv
Games
Planetarium
Audio/Visual
Flower
Imagination
Strobe
Flickr Photos
Next I have
500 Mostly Useless Facts!
It is on http://www.DJTech.net - Humor Pages, there are 8 different links in all. Find out how many ways you can make change for a dollar and much much more. Have Fun!
Last of all this week I have
Easy Mac Micro Maniac!
Watch (and don't forget the
SOUND
) as these MANIAC'S microwave all kinds of different things like Christmas lights, marshmallows, glue, soap, crayons, a football, eggs... OK you get the point now go see for yourself.
DON'T TRY THIS AT HOME!
Click Here
to go to this week's edition of Karen's Korner.
Stay Safe & Have Fun!
Karen