Rotary Long Range Plan Goals - Thumbs UP!
August 12, 2007
By: Stephen Kent
Last Weeks program - August 7, 2007:
ROTARY CLUB OF BAY CITY MISSION STATEMENT
The mission of the Rotary Club of Bay City is to foster service above self, to encourage fellowship among its members, and to support the development of programs that lead to improved quality of life in our community and throughout the world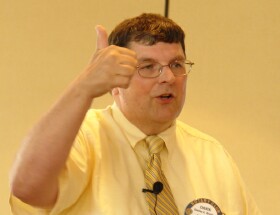 Thumbs UP or Thumbs DOWN?
Member Chuck Brooks presented a report on the Club's progress toward achieving the goals of the strategic plan adopted last year. Overall things look pretty good. The club sponsored it's annual Vocational Days for high school students. Not only did we participate in the District's outgoing Group Study Exchange program, one our members was the team leader. Fund raising and giving to Rotary's causes for the year exceeded goals. Club Service Projects were continued and an international project was approved and started. And the club continues to host students participating in the Rotary Youth Exchange Program.
Some goals were not completed or are still in the planning stage. A new Public Relations committee is in the works. The display of the Rotary Symbol on rotary projects has been done for the historic kiosks and is being planned for the Pere Marquete Depot project.
The biggest challenge for this year will be membership. President Rob Clark has set a goal of a net ten member increase yet the trend over the last few years has been a small annual shrinkage as with more members left than were added. This year started around 123 members so the challenge is there.
---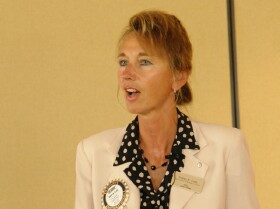 Objective 2.2 of the Strategic Plan is to provide an opportunity on a quarterly basis for club members to learn about fellow members through the "Ten-minute Rotarian/Classification Talk" program. Last Tuesday member Deb Lutz compressed her life into a ten minute presentation and again proved that this is the
most popular program
the club presents.
Deb grew up in a rural setting around Freeland as the oldest of 5 children. It was a time before I-pods, computer games and 24 hour television. Deb's self educated parents taught their children the responsibilities of helping with chores but also the joy of learning and experiencing the world through travel, the arts, outdoors and school.
Deb graduated from Freeland High then went on to Delta College, where she was followed by all of her siblings. After Delta she went on to Michigan State to eventually become a CPA. Deb joined the team at Deloitte and Touche where she worked with fellow Rotarians Gary Reidlinger and Kathy Laethem.
Her next posting was with Super Food Service, and IGA Wholesaler in Saginaw, where she became Controller. In the mid 1980's she was a top official at a $750 million a year company in a time when it was new to have a female executive at that level.
Eleven years ago Deb had the opportunity to join the staff of Delta College when the Vice President of Business left. She took that position where she continues today.
Deb met her husband Bill on a scuba outing while they were in school. They finished school together then came home where they bought the shell of a cottage and finished it together. The couple also earned their MBA's and raised son Chris (now 18) and daughter Danielle (now 12). Bill is a mechanical engineer with Dow.
The family loves travel, scuba diving and the outdoors. A favorite sport is high performance boating, which they do in their 38 foot Wellcraft Scarab. Deb says the family motto is a balanced live: work hard but also play hard.
---
CLUB NEWS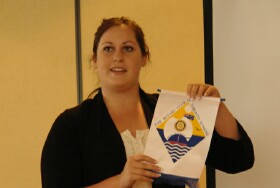 The club welcomed
Sal Hollingsworth
, a Rotary Exchange Student from Australia. Sal is living in Midland while in the states. She presented the club with a trading flag from her sponsor club, Toronto Sunrise, of Lake Macquire, District 9670 in Australia.
The
dictionaries
have arrived and are at Messiah Lutheran Church. Help is needed to affix labels then distribute the books to schools.
International Night
tickets were distributed. Be sure to send in your check... Larry has a list and is checking it twice (at least!)
---
Upcoming Programs
(See the official schedule at
RotaryBayCity.org
)
August 14 Good Samaritan Rescue Mission and Do-All, Inc.


August 28 The need for mentors for foster children who are teens or have aged out of the system .


September 11 Club assembly

---
CLUB ANNOUNCEMENTS
The August Board Meeting will be held on the 14th at the Lumber Barons at 11:00 a m.


Rob Monroe called for a family to host our inbound exchange student Mariana from Mexico. Jeffrey Weenink's family, and Rob's family will host Mariana for the first and last three month period. A third family is needed for the middle period, which includes the Christmas holidays.


Help Grow Our Membership. President Rob Clark has set a goal of 130 members by year end. Since clubs typically lose 10 members a year, that means we need 20 new members. INVITE A FRIEND!


Breezes Reporters Wanted: If you'd like to help write the weekly Breezes please see Steve Kent. It's an easy job. No experience necessary. High Pay (well at least a lot of thanks).


If you have International Night auction items it's not too early to let the committee know about them. A form is available for download on the International Night page of the club web site.


---
Visit RotaryBayCity.org, web site of the Rotary Club of Bay City, Michigan