Good Samaritan Rescue Mission and Do-All Present Programs
August 19, 2007
By: Stephen Kent
Last Weeks program - August 14, 2007:
Good Samaritan Rescue Mission and Do-All Update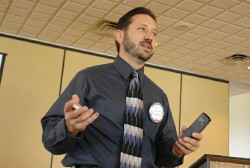 Want a free lunch? Dan Streeter, Director of the Good Samaritan Rescue Mission, invited anyone who has not visited the mission to do so and have lunch on him. This offer is to give everyone a chance to see the work done by the mission and the quality of meals provided.
Few really know about the homeless population on Bay City. In fact, Good Samaritan provided some 4,000 nights of lodging last year and served over 22,000 meals. The facility prides itself on the family rooms which accommodate Dad, Mom and Kids. Clients are give seven days lodging and a plan to help get them on their feet. The stay can extend if the plan is followed. The average stay is 30 days.
The key to the success of the mission is volunteers. The staff of 12 is supplemented by 50 volunteers. These people are responsible for some of the Mission's most popular programs. At Easter the group has an apple pie sale that generally raises about $6,000.
The Mission is currently working to raise funds to build a men's wing. At the present time men are referred to the Saginaw Mission. It is estimated that there are over 12,000 homeless men in Michigan and 60% of them are in the 40 to 60 age range.
For more information visit
GSRMBayCity.org
---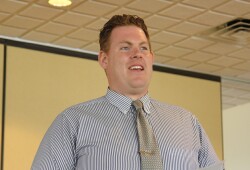 Chris Girard, President of
Do-All, Inc.
, spoke to the club about the private, non-profit dedicated to serving people with disabilities. The local organization was founded 35 years ago and now works out of a 110,000 sq ft. facility located at 1400 S. Lincoln Ave.
Do-All is well known to most Bay Citians who see the crews working around town and for the coffee shop operated in the Wirt Library. The organization also operates a packaging center in the Lincoln Ave center and counts among its clients SC Johnson, Inc.
When Created for Caring closed its doors, Do-All helped fill the void with their Material Assistance Center which provides house hold and clothing needs for working poor and low-income individuals by referral from other agencies.
That location also houses the Cat's Meow Resale Shop, which recycles donated items into the community and raises funds the help Do-All provide services.
Hand In Hand is Do-All's senior mentoring program, which links volunteers 50 and older with elderly individuals with one or more developmental disabilities, who may face issues of loneliness, isolation, anxiety and other challenges. Through these programs, Do-All provides new clothing for foster youth who frequently enter care with very little. Along the same line, the service has a back pack program to provide back packs filled with school supplies to kids in need.
For more information visit
DoAllInc.org
---
CLUB NEWS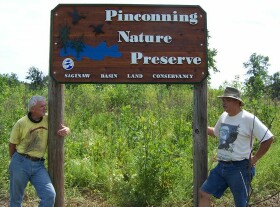 On August 11 members of the Saginaw Basin Land Conservancy, along with members of the provisional Pinconning / Standish Rotary Club erected a sign at the new Pinconning Nature Preserve. The sign was partly paid for by a Community Grant from the Bay City Rotary Club.
Brad Kessel announced that $11,500 has been raised in International Night sponsorships.
Although Rob Clark was out of town, he sent instructions to Anne Trahan to continue the four Avenues of Service quiz. If you have a yellow Rotary wallet card, you should keep it handy!
The club plans to hold a membership drive in the next few months. Details will be announced soon.
A new printed photo directory has been produced and will be passed out at the next few meetings.
Anita Bowen reported that the Morning Club has made a cash contribution to the Plantation Project and the Alma Club has expressed interest in participating.
Paul Harris Fellowships were presented to Cliff VanDyke (plus 1) and to Ron Fuller, a charter member of the Paul Harris Society. br clear=all>
---
Upcoming Programs
(See the official schedule at
RotaryBayCity.org
)
August 21 River of Time and Women's History


August 28 The need for mentors with foster children who are teens or have aged out of the system and under age drinking.


September 4 The upcoming library millage request


September 11 Club assembly

---
CLUB ANNOUNCEMENTS
The board has approved a Public Relations Officer position for the club, for which it will pay an honorarium.


The dictionaries have arrived and are at Messiah Lutheran Church. Help is needed to affix labels then distribute the books to schools.


International Night tickets were distributed. Be sure to send in your check... Larry has a list and is checking it twice (at least!)


Rob Monroe still needs a family to host our inbound exchange student Mariana from Mexico. Jeffrey Weenink's family, and Rob's family will host Mariana for the first and last three month period. A third family is needed for the middle period, which includes the Christmas holidays.


Help Grow Our Membership. President Rob Clark has set a goal of 130 members by year end. Since clubs typically lose 10 members a year, that means we need 20 new members. INVITE A FRIEND!


Breezes Reporters Wanted: If you'd like to help write the weekly Breezes please see Steve Kent. It's an easy job. No experience necessary. High Pay (well at least a lot of thanks).


If you have International Night auction items it's not too early to let the committee know about them. A form is available for download on the International Night page of the club web site.


---
Visit RotaryBayCity.org, web site of the Rotary Club of Bay City, Michigan