Central Wolves Out-Mud Saginaw 24-6;
Flint SW Surprises Midland Dow
Bay City High School Football Season Off to Soggy Start
August 26, 2007
By: Dave Rogers
Michigan high school football is off to a soggy start, with four of 12 Thursday night games statewide canceled because of weather.
Tonight the MyBayCity
GRAFF CHEVROLET GRID REPORT
contests include a non-league encounter pitting Essexville Garber at the Pinconning Spartans, John Glenn hosting Cadillac, the Western Warriors at the Flint Central Phoenix and All Saints in an inter-faith clash at Valley Lutheran. All games are at 7 p.m.
Thursday night at Elmer Engel Stadium in Bay City, despite a half-hour delay because of lightning, the host Central High Wolfpack slogged to a 24-6 win over Saginaw High's Trojans.

Bay City Central Football
Off To Soggy Start


Central Sloshes To 24-6 Victory


Central seniors Katie Maus, left, and Mollie Delano, are enjoying the game before the rain.

Lightning Delays Start of Game by One Hour

Down The Sideline

Bay City Central fleet running back Trenton Robinson splashes through mud on the sideline after long gain.
Central's speedy backs Trenton Robinson and Luther Ware and Quarterback Alex Bush did most of the heavy lifting in a game marred by numerous fumbles caused by the wet conditions.
Robinson came up limping after apparently turning an ankle on one broken run and his condition was briefly a concern with a big challenge from always-powerful Midland coming up next Thursday at home.
However, Coach Morley Fraser said that Robinson is OK and will be ready to go next week. A sigh of relief was heard all the way from East Lansing, where Robinson is slated to be one of the fastest player on the field for the Spartans next year.
Robinson, with 40-yard time of 4.3 seconds, is comparable to Detroit Country Day back Jonas Gray, who scored 21 touchdowns last year and is on a full scholarship to Nebraska. Gray, 5-10 and 213 pounds, has been clocked at 4.37 in the 40, perhaps only a step or two slower than Robinson.
Wolfpack kicker and punter Ryan Brunette made a big impact by scoring on a pass from QB Bush, kicking a 29-yard field goal and tacking on three extra points -- personally accounting for half of Central's 24 points.
Bush also threw to Robinson for another TD and Central capped the scoring late in the game by pouncing on a Trojan fumble at their own 1 yard line, with Ware crashing in for the score.
Central's defense appeared superb despite having to deal with the mud and Saginaw was able to manage only a lone touchdown and failed with the point after.
Coach Fraser was pleased with the defensive line, calling the play of that unit "outstanding," but felt the offensive line needs to step up for the Midland game. Several key linemen were out of action for disciplinary reasons Thursday night, he said. "Hopefully we'll see a different look when those players return next week," said Fraser.
The stadium public address announcer, Mike Vincent, paid tribute to former Wolfpack great Lynn Conway, who made All State as a tackle and end 60 years ago, in 1947. Conway went on to play at Michigan State 1949-52 and is honored in the Bay County Sports Hall of Fame.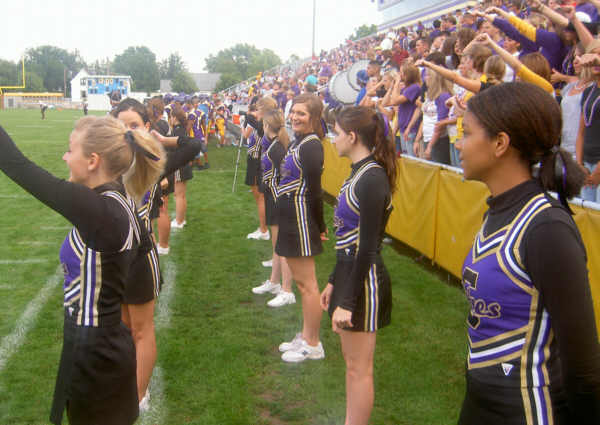 Central cheerleaders fire up soggy crowd at Engel Stadium.
---
In other Saginaw Valley League play, Flint Southwestern Academy surprised Midland Dow 49-14, the Knights coming up with a speedy running and passing attack.
A powerful Flint SW will change the mix in the Saginaw Valley from previous years when the Knights were the league doormat, recording only 32 wins and 139 losses for a .187 winning percentage. Mt. Pleasant and Saginaw Heritage are said to the be class of the Valley, along with Bay City Central and Midland.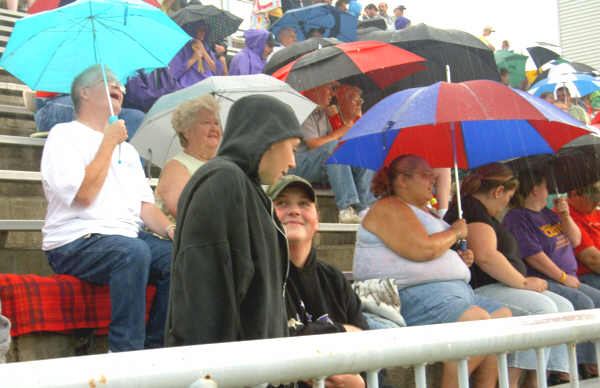 Umbrellas sprout during first quarter downpour at lightning-delayed Central-Saginaw slogfest.
---
###