John Glenn Football Team races onto the field before Friday night's Home opening game.
---
Bangor John Glenn Rolls Over Cadillac 35-6
Schumann's Three TDs Lead Bobcats to Season Opener Home Win
August 26, 2007
By: Maria Vos & Shannon Smith

With superior defense and outstanding offense, the John Glenn Bobcats started off their 2007 season with a convincing 35-6 win over the Cadillac Vikings.
Beginning the first quarter with the Vikings on offense, the Bobcat defense held Cadillac, forced a fumbled punt on fourth down, to gain possession of the ball.
Nearly four minutes into the game, Bangor's first touchdown was scored by Senior running back Chris Schumann. Junior, Ty Richards launched the extra point through the goal posts making the score 7-0.
Schumann added two more touchdowns in the first quarter with runs of five and forty-seven yards.
In the second quarter, Glenn continued to dominate the field. Scoring the last touchdown before halftime was Junior fullback, Matt Balen, with an 8 yard touchdown reception from quarterback and fellow junior, Richard Watson.
The score was 28-0 at the end of the first half.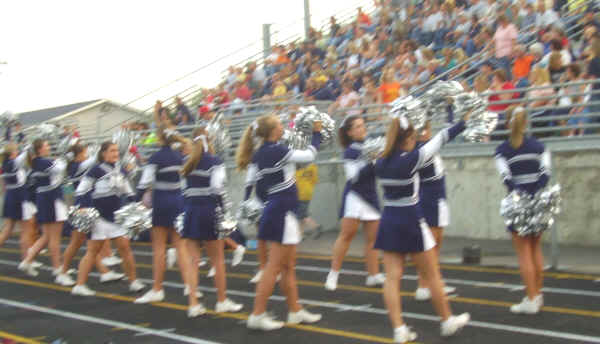 John Glenn Cheerleaders work the crowd during Friday night's home football game against Cadillac. John Glenn won 35-6 and next plays Tawas on September 7th.
Holding onto a comfortable lead going into the third quarter, the Bobcats contained Cadillac, keeping them from gaining any ground. With 9 minutes and 12 seconds left in the quarter, Junior Tyler Clemons scored the fifth and final touchdown for John Glenn with a run of 12 yards.
In the forth quarter, with 3:55 left on the clock, the Vikings topped off the game's scoring with a 4 yard touchdown pass to Brandon Champion. The extra point was no good.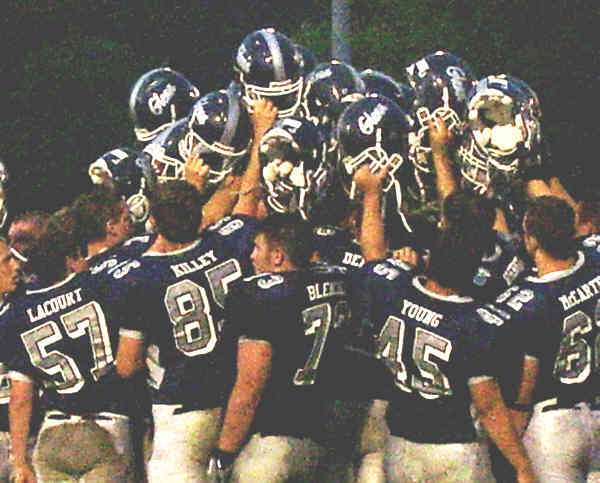 John Glenn players celebrate during 35-6 home win over Cadillac on Friday.
Bobcat fans and players alike are happy with the wonderful start to the new season.
Head coach, Mark Miller, couldn't agree more, "For a season opener against a quality opponent like Cadillac, we're happy for a win," Miller said, "But there's still work to be done starting next week."
John Glenn will next face off against the Tawas Braves on September 7, at Tawas.