Issues of Justice for Children Discussed by Probate Judge Karen Tighe
August 28, 2007
By: Dave Rogers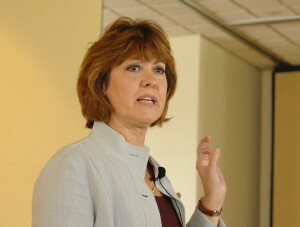 Last Weeks program - August 28, 2007:
The Justice System and Children.
Probate Judge Karen Tighe last week gave Bay City Rotarians a summary of issues she is dealing with regarding justice for children.
Major issues include children aging out of the foster care system, underage drinking and youth listings on the state registry of sexual offenders, said Judge Tighe, a veteran of 13 years on the bench.
She is a graduate of Dominican High School, Detroit, the University of Michigan and the Detroit College of Law, served as an assistant prosecutor in Bay County and was Friend of the Court Referee for 17 years and Circuit Court Administrator. She was Bay County's first female Probate Judge and is on the Michigan Board of Psychology and the board of the Michigan Judicial Institute.
A survey has shown that 54.3 percent of teenagers admitted drinking alcohol in the past month, she said, handing out bumper stickers saying: "Underage Drinking - Not a Minor Problem."
She said underage drinking in this community "is a major problem," noting that adults "need to be responsible in our own alcohol use."
Local statistics regarding underage drinking are "way over the national average," Judge Tighe said. In fact, the number of local teens admitting having five or more drinks consecutively surpassed the national average by 10 percent. she added.
Consequences of this problem include depression and risky behavior. Youngsters who begin drinking before age 16 are four times more likely to become alcohol dependent and may be starting a lifelong problem, the judge said.
Most youths who don't start drinking until age 21 don't go on to become addicted, she said, noting that most get alcohol at home or from adults.
"There is little child abuse in this community, but lots of neglect," the judge stated. The law gives parents a year to address neglect problems and after that "the goal changes to adoption."
In the case of drug-addicted mothers, in some cases the children are taken by the court from the hospital, she said. For youngsters aged 9-14, a permanency plan is more complex.
"We need adults -- responsible members of the community -- who can help these kids out and guide them toward becoming productive members of society," she asserted.
After the Polly Klass case in California, society has "gone overboard" in "adultifying problems of sexual offenders," Judge Tighe said. For example, a 9-10-11 year old boy who is involved in sexual exploration with a young girl may end up on the sexual registry for 25 years to life.
"Society gives mixed messages by promoting hyper-sexual activity," she said.
"In most of these cases the children involved are not dangerous and the problems are treatable," she said. "There is a difference between a pervert and a youngster who is involved in a touching incident." She added: "Some of our remedies for these problems create a hardship for the youngsters involved and are not fair and not appropriate."
---
CLUB NEWS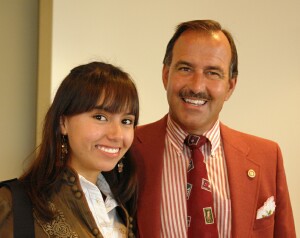 Welcome our exchange student from Pachuca, Hidalgo, Mexico
Mariagna Patricia Zimbron de la Croz
. She is staying with the Weeninks for the first three months then will move on to another family.
If you would like to host Mariagna, there are still openings for the middle part of her visit. That will be over the holidays so it would be a great time to show her that wonderful season.
---
Upcoming Programs
(See the official schedule at
RotaryBayCity.org
)
September 4 The upcoming library millage request


September 11 Club assembly


October 2 Michigan's Business Tax

---
CLUB ANNOUNCEMENTS
Mark October 18 on your calendar for the chartering of the Pinconning club.


In the spirit of the Rotary Year Theme "Rotary Shares", President Rob has started a food drive. Members are encouraged to bring a can of food, or donate cash, each week. The food will be distributed to local food pantries.


The club plans to hold a membership drive in the next few months. Details will be announced at a club assembly, September 11.


A new printed photo directory has been produced and is available from Steve Kent.


The International Night committee is meeting weekly at 11:00 am, right before the regular Club meeting. Volunteers are needed. Be sure to check the sign up cards.

Be sure to buy your tickets. Larry LaPorte distributed two tickets to all members.

We need about 140 more auction items over the next six weeks. The auction accounts for a third of the revenue!


The board has approved a Public Relations Officer position for the club, for which it will pay an honorarium.


The dictionaries will be delivered soon. See Chuck Cusick if you'd like to help.


Breezes Reporters Wanted: If you'd like to help write the weekly Breezes please see Steve Kent. It's an easy job. No experience necessary. High Pay (well at least a lot of thanks).


---
Visit RotaryBayCity.org, web site of the Rotary Club of Bay City, Michigan