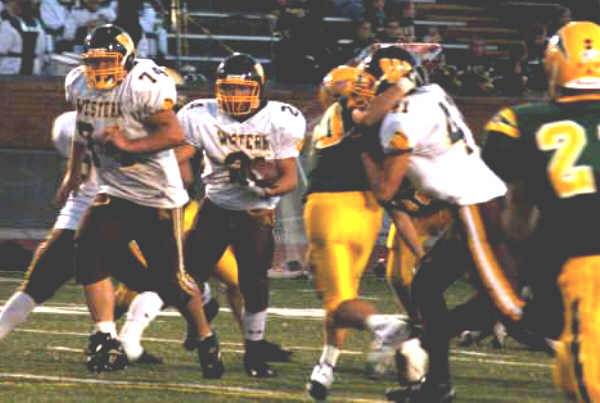 Western High running back Justin Gwizdala breaks into the open for a good gain against Midland Dow. (Photo by Maeling Groya)
---
Western's Justin Gwizdala Top Rusher as Warriors Top Valley in Offense
Luther Ware of Central Third in Rushing, Warrior Matt Grew Third in Passing
September 6, 2007
By: Dave Rogers
Western High Schools bruising running back
Justin Gwizdala
, aided by extra opportunities during a double-overtime win at Midland Dow last week, has gained the Saginaw Valley League lead in rushing yardage.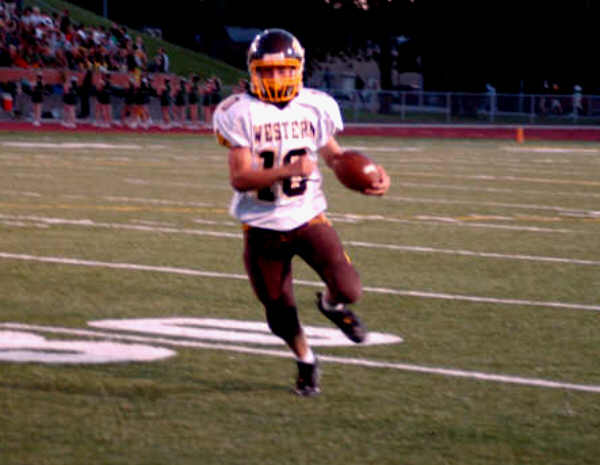 Matt Grew, Western quarterback, is free in the open at Midland Stadium against Dow.
Photo by Maeling Groya
Western is tied at 2-0 with Flint Southwestern, Mt. Pleasant and Saginaw Heritage atop the Valley standings. The Warriors entertain Saginaw at Auburn Friday while Bay City Central travels to Saginaw
Arthur Hill
to take on the Lumberjacks.

In other GRAFF coverage games Friday, Garber hosts the Bridgeport Bearcats, John Glenn is home to the Tawas Braves, All Saints entertains the USA Patriots and Pinconning is home to Standish-Sterling.

As a team, Western leads the Valley with 463 rushing yards and 287 passing for a total offense of 750 yards. Mt. Pleasant is second with a 704 yard total, followed by Midland with 552 total yards. Bay City Central is fourth with 320 yards rushing and 207 passing for a total of 527 yards.
Gwizdala rolled up 268 yards on 42 attempts for a 6.2 yard per carry average and one touchdown.

Close behind are
DeShawn Hayes
, of Saginaw Heritage, with 206 yards in 13 carries, a 15.8 yard average and three TDs, and Bay City Central's
Luther Ware
, third with 203 yards in 29 rushes and a 7.0 yard average with one touchdown.
Also in the top 10 rushers are
Alex Bush
, Central quarterback, sixth, with 120 yards on 25 rushes for a 4.8 yard average and a single TD, and
Matt Grew
, Western QB, 105 yards on 33 carries for a 3.2 average and three TDs.
In passing, Grew is third in the Valley on 16 completions in 34 attempts for 287 yards, a 47 percent average and two TDs; Bush is fourth with 19 completions in 33 tries for 207 yards, a 58 percent average and three touchdowns.
Valley passing leaders are Mt. Pleasant's
William Arnold
with 17 completions in 26 attempts, a 65 percent average, for 386 yards and five TDs, and Midland's
Andrew Maxwell
, 26 completions in 45 tries for a 58 percent average, 318 yards and two TDs.

Scott Osentoski
of Western, with five receptions for 124 yards (24.8 yards per catch) and two TDs is second in receiving in the Valley. Central's Trenton Robinson, nine catches for 114 yards (12.7 yard average) and one TD, is third.
Valley receiving leader is
Tyler Mills
of Mt. Pleasant with nine receptions, 262 yards (29.1 yard average) and four TDs. The four TDs also make Mills the Valley scoring leader, with Western's Grew tied for second at three TDs with four other players.
Defensively, Central is fifth in the Valley, allowing 184 rushing yards and 230 yards passing for a 414 yard total. Western allowed total yardage of 424 (260 yards rushing, 164 passing) for seventh place in the Valley.

###