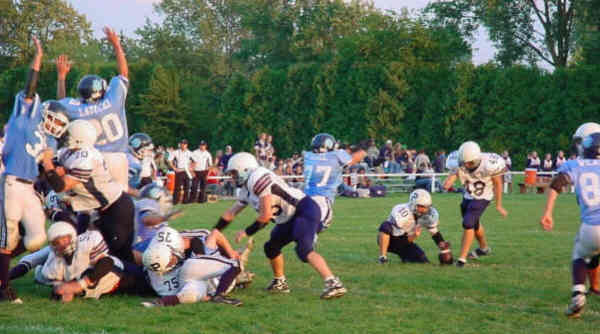 One of the few All Saints' highlights in the first half came when Kevin Bisel blocked this PAT by USA's Eric Kuhl.
---
USA Overpowers All Saints 30-0
Smaller, Lighter Cougars Give Great Effort-Battle Patriots Even in 2nd Half
September 9, 2007
By: Kevin Leahy

USA ran off their bus at Saint Stanislaus Field and never slowed down until halftime in their game against All Saints.
By the time the dust cleared at the half the patriots owned a 27-0 lead and plenty of momentum. "No letting up," was their chant as they filed into their locker-room at intermission.
The Cougars who were outweighed and being outplayed decided they had enough of the Patriots running up and down their field.
Although being out-sized by their foes from Sebewaing the Cougars played them close to even in the second half only giving up a field goal.
With the final score of 30-0, the only real threat the Cougars had of breaking the goal line was snuffed out by an interception in the end-zone with just over one minute left in the game.
Lance VanHoost, the Unionville-Sebewaing running back who outweighs all but two Cougars played that way . . . BIG. VanHoost (6-0, 193) finished with 182 yards and three touchdowns on 21 carries.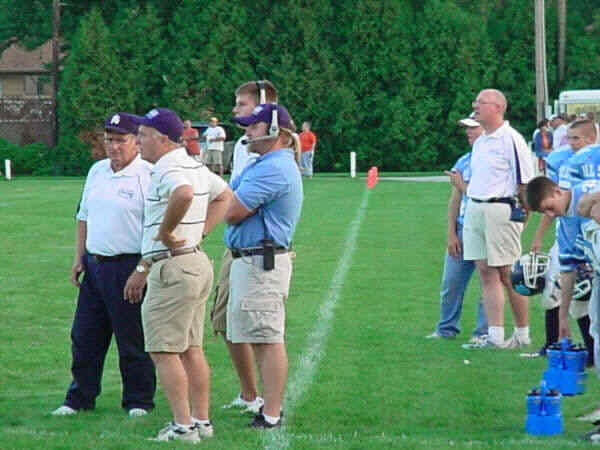 All Saints coaches Jeff Bisel, Tom Herek, Pat Gorzenski and Matt Marvin discuss strategy as their trainer Shaun Sullivan looks on..
(MyBayCity Photo by Kevin Leahy)
As a team the Patriots ran for 282 yards on 55 attempts. Van Hoost was just as big on defense from his middle linebacker spot finishing with 12 tackles. With VanHoost stuffing up the middle the Cougars were forced to throw the ball 20 times with 14 completions for 78 yards however three were in the hands of Patriots defenders.
The Cougars hope to re-group next week traveling to Buena Vista for a 7:00PM kick-off.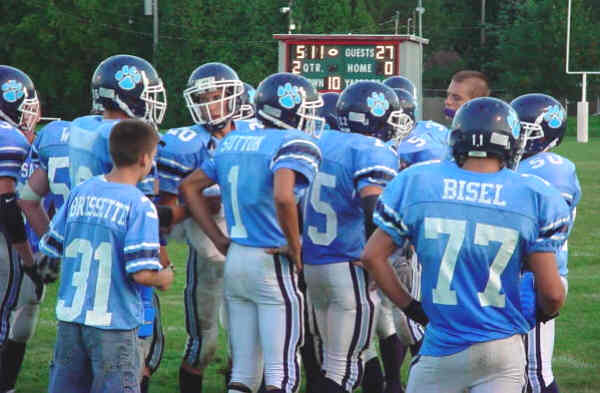 The Cougars listen intently to their coaches as to how to stop the USA offense.
(MyBayCity Photo by Kevin Leahy)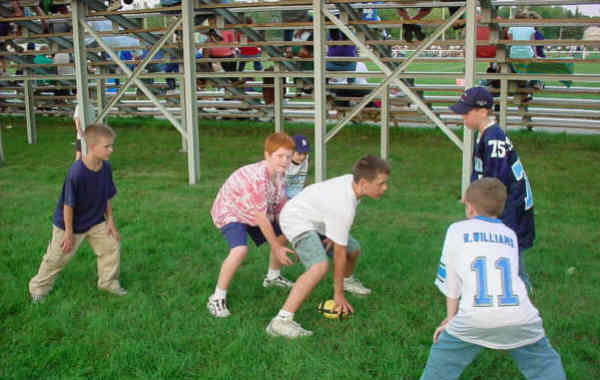 The future looks bright for the Cougars as this game coincided with theirs in front of the grand stand.
(MyBayCity Photo by Kevin Leahy)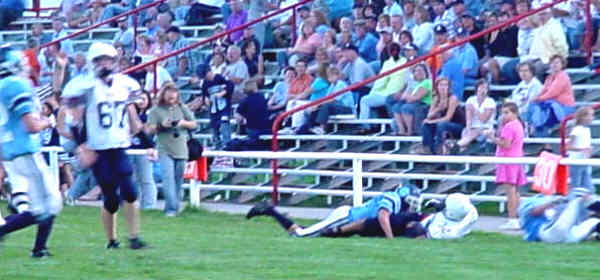 The All Saints faithful look on as an unidentified Cougar makes the tackle on Larry VanHoost.
(MyBayCity Photo by Kevin Leahy)