Library Board Chairman Don Carlyon Cites Economic Importance of Libraries
September 4, 2007
By: Dave Rogers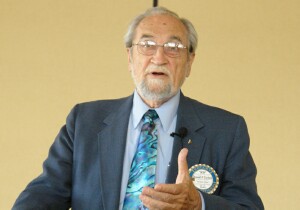 Last Weeks program - September 4, 2007:
Library Millage Vote Discussed
The Bay County Library Board may be somewhat political, but the library's operations aren't and shouldn't be judged by the politics that formerly swirled around the system's improvements.
As a crucial millage election for library operations looms, this community needs to regain its pride by putting aside the past and looking toward the future.
Not only is the library system a vital adjunct to education, it is the centerpiece of economic development.
Those are the views of Library Board Chairman Donald J. Carlyon, who shared them with Bay City Rotarians and explained that a citizen's committee is working toward passage of the millage question on the ballot Nov. 6.
Mr. Carlyon said: "The fact that we have a wonderful new, modern adequate library system is a signal to investors and potential residents that this is a thriving community that cares about education and public services."
He asserted that the new Thumb National Bank, now residing in a renovated former main library, will pay far more in local property taxes than the businesses displaced by the new main building. That was his answer to one objection posed by "no" voters.
"We all want our libraries operating," said Carlyon, the former Delta College president who knows the value of education and the part that libraries play in that process.
He noted a direct correlation between library funding and student academic achievement, commenting: "This is a plus that no voters can't refute." "I ask you to all become evangelists for the library," he challenged Rotarians.
Carlyon cited the value of the library system to community quality of life and as a basis for economic development.
The library board is less political and is working together, said Mr. Carlyon, although some of the boards that have had an impact on the public perception of the library are political. He expressed the hope that important political figures in the community would step up to support this issue.
The Wirt Library's collection contains about 225,000 books, CDs, newspapers and magazines, the board chairman said. It maintains a separate room for local history and genealogy and provides free computer access for educational and recreational use. Mr. Carlyon noted that the library circulated 98,000 items in 2006, a 25 percent increase since 2000. Bay County circulates eight items for every person in the county, exceeding the state (6.5) and national (7.0) averages, he said.
Library hours are curtailed because of rejection of a 1.2 mill renewal last August. The main library, Wirt, is now open 6 days, Auburn and Pinconning branches are open 5 days, the Bookmobile operates a couple of days a week and the Sage branch is closed. With approval of a 1 mill reduced request, "hopefully we can do more," said Mr. Carlyon, who would like to see Wirt open 7 days a week. The millage provides 60 percent of the operating revenue of the library system.
Tom Tabor, retired jeweler and longtime community booster, visiting from Florida, urged Rotarians to "write about pride" in behalf of the millage renewal. He noted that visitors to Bay City "can't believe how beautiful our libraries are." ###
---
Upcoming Programs
(See the official schedule at
RotaryBayCity.org
)
September 11 Club assembly


October 2 Michigan's Business Tax

---
CLUB ANNOUNCEMENTS
Mark October 18 on your calendar for the chartering of the Pinconning club.


In the spirit of the Rotary Year Theme "Rotary Shares", President Rob has started a food drive. Members are encouraged to bring a can of food, or donate cash, each week. The food will be distributed to local food pantries.


The club plans to hold a membership drive in the next few months. Details will be announced at a club assembly, September 11.


A new printed photo directory has been produced and is available from Steve Kent.


The International Night committee is meeting weekly at 11:00 am, right before the regular Club meeting. Volunteers are needed. Be sure to check the sign up cards.

Be sure to buy your tickets. Larry LaPorte distributed two tickets to all members.

We need about 120 more auction items over the next six weeks. The auction accounts for a third of the revenue!


The board has approved a Public Relations Officer position for the club, for which it will pay an honorarium.


Breezes Reporters Wanted: If you'd like to help write the weekly Breezes please see Steve Kent. It's an easy job. No experience necessary. High Pay (well at least a lot of thanks).


---
Visit RotaryBayCity.org, web site of the Rotary Club of Bay City, Michigan