Karen's Korner...Get Informed & Have Fun!
Global Incident Map, Organ Donor & Batteries
September 9, 2007
By: Karen Polega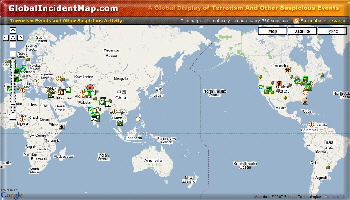 Terrorism Events and Other Suspicious Activity
Hello All & Welcome To Karen's Korner, each week I add 3 new links to web-sites that I find interesting, funny or amazing!
This week I found
The Global Incident Map
, It is a global display of Terrorism and other suspicious events. The page automatically reloads every 360 seconds. It is pretty interesting. There are instructions on how to use the map on the page.
Next I have found
OrganDonor.gov
. This site has access to U.S. Government Information on Organ & Tissue Donation and Transplantation. It has a lot of information on being a donor, who can donate, types of donations and transplantations.
Last of all this week I have a video for you...
The
$40 hidden inside a 12V battery
! Who would of guessed (not me)? Also on the page, there are a few links, check out number 4. Secret homemade stain removers that kick butt.
Click Here
to go to this week's edition of Karen's Korner.
As always, stay safe & have fun.
Karen