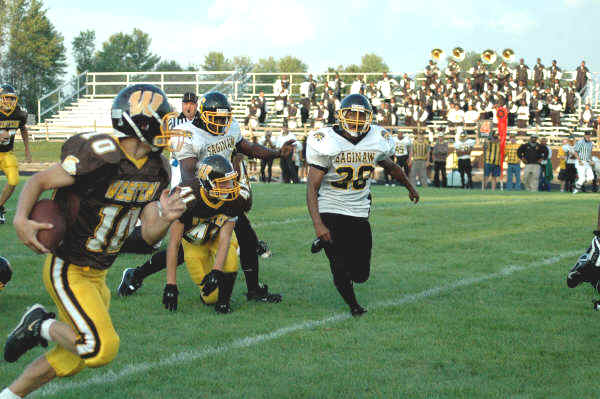 Bay City Western Quarterback Matt Grew is on the run again. Grew passed for 2 TD's and ran for 2 more in Western's 27-0 win over Saginaw High.
---
Warriors, Wolves Subdue Saginaw Teams; Bobcats Bite Braves, Pinny Socked
This Week's Games Pose Tough Test as Oilers, Knights Come to Town
September 9, 2007
By: Guest Columnist

Western High's Warriors continued their winning ways against Saginaw High and Central's Wolves axed the Lumberjacks of Saginaw Arthur Hill last week.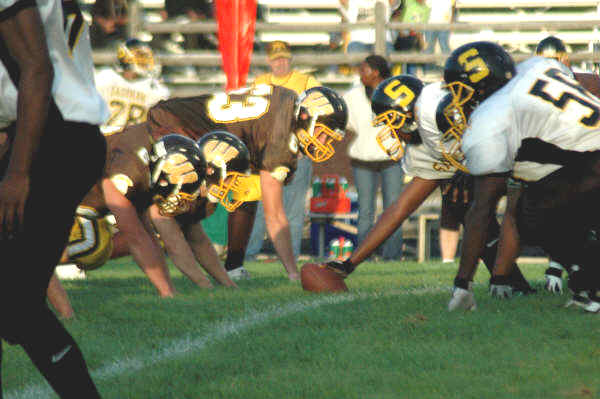 Western Warrior defense lines up against Saginaw ready for action on their way to a 27-0 shutout.
(MyBayCity Photo by Maeling Groya)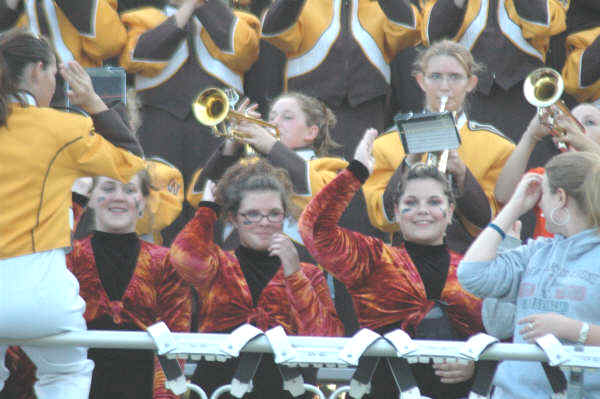 Dance team members enjoy the victory over Saginaw High with the band as they await the halftime show.
(MyBayCity Photo by Maeling Groya)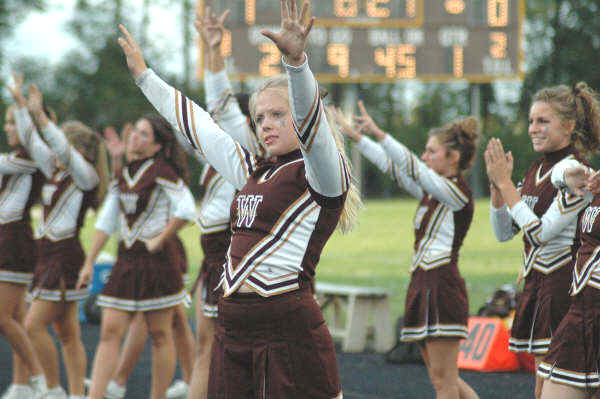 GO WARRIORS - Western cheerleaders whoop it up for the football team as Western defeated Saginaw High 27-0 to increase their record to 3-0.
(MyBayCity Photo by Maeling Groya)
Central's Wolves were able to take a bite out of the Saginaw Arthur Hill Lumberjacks 7-6 by virtue of a tenacious defense that squelched two Hillite drives inside the 10 and a block of an extra point by Mark Gwizdala. Arthur Hill's defense, in turn, stopped all but a 19-yard TD pass from alternate quarterback Trenton Martin to Alex Bush and a Ryan Brunette game-winning point after. Only Luther Ware (68 yards) was able to gain much against the physical Lumberjacks.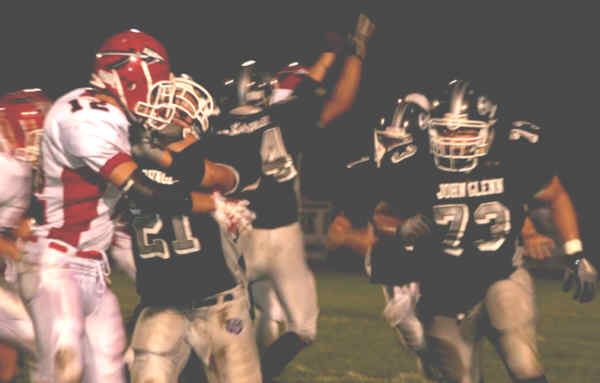 John Glenn runningback (21)Brandon Wrzesiski and (73) Matt Bleicher block on this end-around running play during 10-7 win over Tawas.
(MyBayCity Photo by Maria Vos)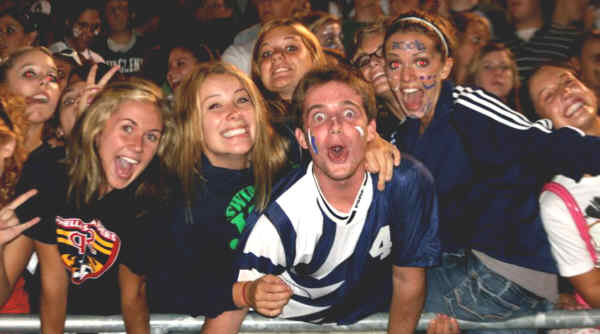 EXCITEMENT - Getting into the game are: (L/R)Back Row: Lauren Bluhm, Sarah Kemmer, and Katie Larner. Front Row: (L/R) Stacy Strieter, Amanda Smith, Sammie Burr, Anna Urband, and Aly Koch.
(MyBayCity Photo by Maria Vos)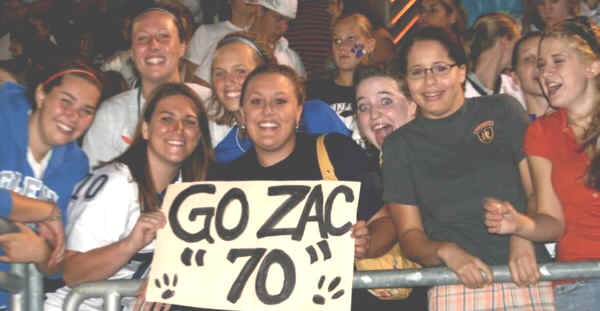 WE KNOW WHO THEY LIKE - (L/R) Jaelyn Guthrie, Lauren Brissette, Darilyn Doddy, Korey Schnell, and Shannon Demers cheer the Bobcats to their 3rd straight win - a 10-7 victory over Tawas.
(MyBayCity Photo by Maria Vos)
John Glenn's Bobcats clawed the Tawas Braves 10-7 to run their record to 3-0, the Garber Dukes mangled the Bridgeport Bearcats 41-16 and two other Bay County teams continued to struggle -- the Pinconning Spartans against Standish-Sterling and Bay City All Saints against USA.
But that was last week and the challenges don't get any easier as the season moves into its fourth week.
This week John Glenn travels to 3-0 Standish-Sterling, which downed the winless Pinconning Spartans last Friday 33-13 despite two TD passes by Spartan Quarterback Brandon Penix.
That sets up a battle of the unbeatens with the Bobcats 2-0 and 1-0 in the North East Michigan Conference after having gone 5-0 and winning the championship last year for Coach Mark Miller.
The heroics by Penix were trumped only by Panther star Austin Collier's three scoring tosses and 21 rushes for 90 yards. Collier racked up 1,000 yards passing and added 1,000 on the ground last year during a 7-3 season.
Coach Chip Kleinhans' Spartans head for Ogemaw Heights this Friday hoping to get in the win column against the tough Falcons, who won two playoff games last year capping a 6-3 season.

Mark Ingram, (Pictured at Right) is one of the state's premier running backs, and William Arnold, one of the region's top passers, hit town this Friday.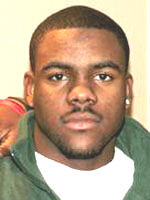 What kind of welcome they get will be up to the local high school football teams that so far have not faced this kind of talent.
"You're probably looking at two NCAA Division 1-A backs in these guys, so this will be a rare chance to see them in action," said one veteran Valley football watcher.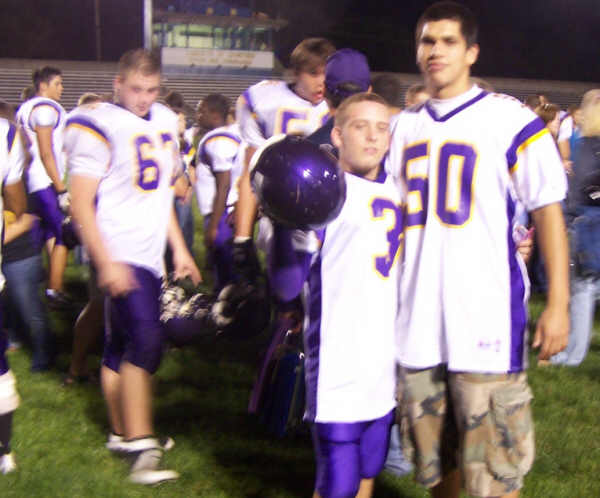 BIG PLAY GUY - Rico Galaviz (Left, holding helmet) made the big fumble recovery late in the game to preserve the Bay City Central victory over the Saginaw Arthur Hill Lumberjacks 7-6. Pictured with Galaviz is (50) Victor Mercado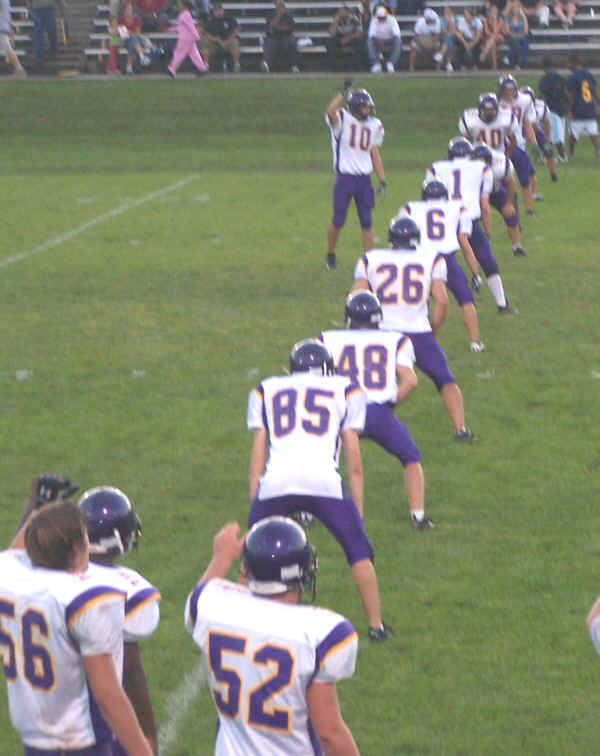 SPECIAL TEAMS - Special team play was a big part of the Bay City Central victory over the Saginaw Arthur Hill Lumberjacks 7-6. (Above) Central prepares to kick off to Arthur Hill.
Valley co-leader Western High and Central High face the league's toughest opponents this Friday. Western takes on the Knights of Flint Southwestern Academy, with the slashing runs of Ingram, and Central hosts the aerial bombardment of Arnold, who completes about 65 percent of his passes and clicked for five touchdowns.
Ingram is making headlines for his monstrous running for Flint Southwestern Academy. The 5-11 205 pound bone-crusher doesn't want to be known as the son of former Michigan State and NFL star of the same name even though his father's fame is great. If he keeps this up, he may become a NFL star himself. Young Ingram has 17 colleges after him with Michigan State, Cincinnati, Washington and Wisconsin said to be among the top choices.
In the Knights opening game Ingram racked up a school record 319 yards in 21 carries for four TDs against Midland Dow. Last Friday he punished his former school, Grand Blanc, where he was a three-year starter, for 220 yards and four TDs.
Can Western, which slugged it out in double overtime before winning 21-14 against Dow week before last, find the defense that will slow down the high-powered Ingram?
Can Central, contain the aerial strikes of Arnold? The 6-3, 190 pound state champion baseball pitcher, hit for 11 passes in 18 attempts for 315 yards and four TDs against Midland High last Friday. And Midland slipped by Central 19-13 the previous week.
These massive tests provide incredible opportunities for the two Bay City teams in the Saginaw Valley League. Keep your fingers crossed.###