MICHIGAN WEEK NEEDS A LOCAL BOOST:
BAY MUST GET ABOARD
State Celebration Now Aims at Cultural Heritage, Complements Tourism
April 23, 2003
By: Dave Rogers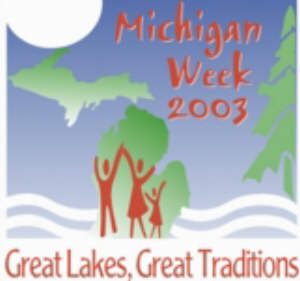 Behind the hype, Michigan Week has a real purpose -- economic development team building and tourism promotion. And Bay County needs to get aboard for the ride if it is really serious about growth and prosperity.
Governor Jennifer Granholm has declared May 17 - 26 Michigan Week 2003. The celebration, themed "Great Lakes, Great Traditions: Celebrating Michigan's Heritage," will promote the rediscovery of Michigan's best attributes.
Granholm will be the Honorary Chair, while William Anderson, Director of the Michigan Department of History, Arts and Libraries will act as Chair.
"I feel lucky to call Michigan my home," Granholm said. "Our state is known for its unmatched natural beauty, a storied history peppered with remarkable people, and a quality of life that is to be cherished."
Michigan Week dates back to 1954 and is designed to inspire people at the local level to embrace, explore and celebrate the history, resources and opportunities that set Michigan apartas an ideal place to work, play and thrive, gushes the state's website for Michigan Week.
Michigan Week is now coordinated by the Department of History, Arts and Libraries, which has introduced a new Michigan Week logo.
It seems to thisobserver that there was a time when we all took Michigan Week more seriously. I recall former Bay City Mayor Anne Hachtel being chairman of the Michigan Week celebration in the 1980s. And other local leaders have boosted the celebration through the years. But so far this year we haven't heard a word from officialdom or the local press and news media about Michigan Week on the local level. I wonder why?
Yes, Michigan Week is a lot of hype. This year Tony the Tiger and Ernie Keebler are the celebrity co-chairs. Both have Michigan roots, of course. Tony is the "spokesman" for the Kellogg Company, cereal makers of Battle Creek, and Ernie shills for the cookie-cutting Keebler division.
This year's celebration is more about history than cereal or cookies. It focuses on the citizens, cities, industries, institutions and experiences that have shaped the Great Lakes state. That's a tall package, but one with a real goal: to unite Michigan residents in the face of economic problems both statewideand nationwide and create a renewed cooperative spirit of growth.
There is a youth photo contest, coordinated by Michigan State University Extension's 4-H Youth Development and the Michigan Department of History, Arts and Libraries. Participantsaged nine to 19 are urged to photograph a favorite Michigan historic site. Six entries from regions around the state will appear on the HAL website; the top 12 photos will be featured on a statewide tour.
The Michigan Week Volunteer Leadership and Community Achievement awards and the John B. Swainson Award, presented to state, county or municipal employees who have significantly contributed to the preservation of Michigan history are also part of the statewide program. Nomination deadlines have already passed.
The Michigan Week website may be accessed at www.michigan.gov/hal.